Steph Curry Explains Why Multiple NBA Teams Want to Defeat the New-Look Warriors
Published 03/01/2021, 5:04 AM EST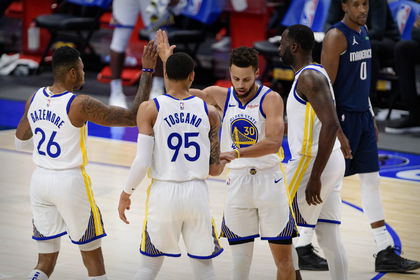 ---
---
Golden State Warriors suffered from their 16th defeat of the season as the champions Los Angeles Lakers defeated them 117-91. The Dubs couldn't handle the explosive Lakers who were in the driving seat from the first quarter itself, taking a commanding 20 point lead.
ADVERTISEMENT
Article continues below this ad
The Dubs could never make a comeback from such a deficit and eventually were blown out in a 26-point defeat. This was the perfect way for the Lakers to avenge their previous loss to the Warriors.
This was the Warriors' 10th defeat against a team with a record above .500, showcasing their lack of quality against top teams. The Dubs need to work on this issue if they want to be a solid team in the playoffs.
ADVERTISEMENT
Article continues below this ad
Steph Curry spoke about the matchup in his post-game interview and said:
"Tough way to start tonight knowing they were gonna come out and avenge what happened last time, and they did that."

Steph Curry on playing the Lakers again

— 95.7 The Game (@957thegame) March 1, 2021
Steph Curry explains why other NBA teams desperately want to defeat the Warriors
The Warriors might have been one of the most successful teams in the last decade, but in the current scenario, they are far from their best. But multiple teams have a chip on their shoulder when they face the Dubs.
Curry opened up about why he thinks teams desperately want to defeat his team. He said, "You know, teams still want to beat us and beat us bad. And they still have, you know, a lot of memories from the last five, six years. So I think a lot of that is you have to guess the really good teams, those disciplines that separate a good team from a great team have to show up."
Steph then explained why his team struggled against the champions and how they faltered defensively. He said, "We've done a great job of not fouling teams, and then you get the best defense in the league, you know, set possessions and easy points. And they, they thrive off of that and they brought a little bit more energy in the first quarter."
ADVERTISEMENT
Article continues below this ad
Curry further added, "So those little things that we can control, gain control, makes and misses every night, which you can control, being smart defensively, not fouling. You can control your energy and your effort and, and your competitiveness. And we've done a really good job of that. And all of a sudden tonight, we didn't have any of it."
Steph's struggles continued for the third game in a row against the Lakers. The 32-year-old has been averaging 23.0 points, 8.0 assists, and 5.3 rebounds per game over the last three games, shooting a dismal 23.1% from the three-point line.
ADVERTISEMENT
Article continues below this ad
With a misfiring Curry, the Dubs' support cast didn't step up against the Lakers. This has been a trend for the team where players like Andrew Wiggins have failed to provide ample support to Curry. Can the likes of Wiggins and Kelly Oubre Jr. step up?