Steph Curry Hails Warriors New Recruit Kelly Oubre Jr After Stunning Win Against Lakers
Published 01/19/2021, 3:54 AM EST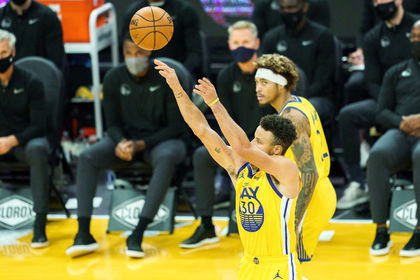 ---
---
Steph Curry had an excellent performance against the Los Angeles Lakers. He and new Warriors' player Kelly Oubre Jr. led the Warriors to an upset win over the Lakers. The Warriors were behind for most of the game but ended up turning the tide in the fourth quarter. Oubre was absolutely excellent throughout the game and scored the second-highest points for the Dubs.
ADVERTISEMENT
Article continues below this ad
Steph Curry gives props to Oubre
Warriors' Stephen Curry spoke to the press after the game. He praised Kelly Oubre's performance against the Lakers, noting that it was the best performance from him in a Warriors jersey. He believes that the Warriors still have a chance to compete this year, and all the team needs to do is put their heads down and continue to compete at the highest level.
ADVERTISEMENT
Article continues below this ad
Steph said, "Just stay competing. We've been in every type of situation this year. Something about these big national TV games — we love getting down by 20 or so. Tonight we just found resilience. Our second unit was unbelievable. Kelly Oubre Jr played his best game of the year, staying confident, taking shots, playing amazing defense. But everybody chipped in, and we weathered the storm against a championship-caliber team. Big win for us."
Steph comes up big for the Warriors
ADVERTISEMENT
Article continues below this ad
This was a big win for Stephen Curry and co. Coming into the game, the Los Angeles Lakers were on a six-game winning streak and had the best record in the NBA. Few expected the Warriors to defeat the defending NBA champions. But GSW were able to grind and get a big win.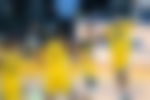 The Lakers started the game really well and took a commanding 19 point lead over the Warriors. However, the Dubs continued to chip away at the lead throughout the second half, as Steph Curry and Kelly Oubre Jr. led the offense in scoring along with Andrew Wiggins and Eric Paschall.
ADVERTISEMENT
Article continues below this ad
Can the Warriors use this momentum from their big win over the Lakers? The Warriors have had a mixed season so far, winning and losing at random intervals. However, defeating the defending champions and favorites for this year in the Lakers could be the boost this unit needs in order to rally toward the playoffs this year.