Steph Curry Reveals How He Would Want Kevin Durant Welcomed Against the Golden State Warriors
Published 02/12/2021, 9:52 AM EST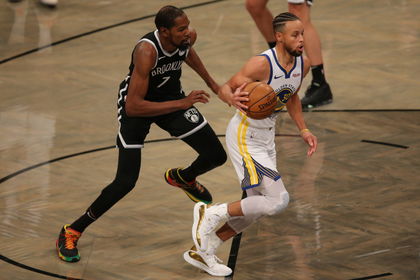 ---
---
Steph Curry and Kevin Durant were teammates for just three seasons, but it feels like they were together for years. The pair won back-to-back titles over LeBron James and the Cleveland Cavaliers before imploding due to injury in 2019 against Kawhi Leonard and the Toronto Raptors.
ADVERTISEMENT
Article continues below this ad
KD would leave the Warriors that off-season and join the Brooklyn Nets. Everyone knew that the end of the road for KD in GSW had become very sour. However, both parties maintain respect for each other despite their messy ending. Steph Curry is proving that with his comments about how he would want Kevin Durant welcomed back to Golden State for their game.
Steph on what he thinks would happen if fans were in the building for KD's return: "Hopefully nothing more than a standing ovation, and respect" https://t.co/noOkve55I4

— Rachel Nichols (@Rachel__Nichols) February 12, 2021
ADVERTISEMENT
Article continues below this ad
Kevin Durant should be considered a Golden State icon. While his stay there was controversial, he did dominate for the two Finals series that he got to play there. Steph has always spoken positively about KD and it is good to see him support his old teammate here.
Steph Curry and Kevin Durant: Is there a rivalry?
ADVERTISEMENT
Article continues below this ad
Even though Steph Curry and Kevin Durant stay respectful of each other, that doesn't mean that both men don't want to beat the other. Steph has gone without winning a Finals MVP because KD won them over him, twice. Similarly, KD's accomplishments are often diminished because he joined a 73-9 team that beat his old team in the playoffs.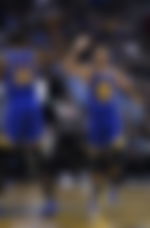 Durant will be just as excited to show that he didn't need Steph to win as Steph would be to show that he didn't need KD. Rivalries can be respectful, and these former teammates seem to have a very respectful relationship. KD may have not fit in with the Warriors' brotherhood, but he did help them all win a few more championships.
ADVERTISEMENT
Article continues below this ad
Warriors face the Nets on Saturday night. KD will be back for the game after spending time off due to health and safety protocols. This will be the first time the pair face off in an NBA game since Game 7 of the 2016 Conference Finals. Steph and GSW beat KD's OKC Thunder then.