Steph Curry Yet Again Expresses His Wish to Stay with Warriors until Retirement
Published 12/22/2020, 11:44 AM EST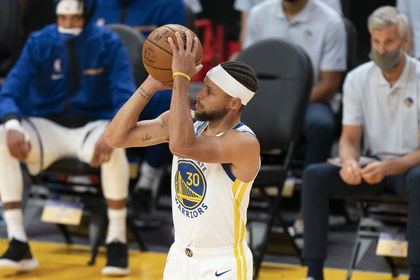 ---
---
Steph Curry has been with the Warriors eleven seasons now. The Dubs and Curry have been one of the most successful teams in the last decade.
ADVERTISEMENT
Article continues below this ad
The Golden State Warriors had a tumultuous 2019-20 season. With one of their stars in Kevin Durant leaving and two of their stars in Klay Thompson and Steph Curry out for the season, the Warriors finished with the worst record last season.
This season the team yet again sees Thompson out with a season ending injury and the Warriors see the return of their talisman Steph Curry and powerhouse forward Draymond Green.
ADVERTISEMENT
Article continues below this ad
Can the Warriors re-establish themselves as a Western Conference Powerhouse?
Steph Curry locked in with Warriors
It is rare to see superstars stay with a single team for such a long time like Curry has. His name comes up with a handful of NBA players ever to stay in a team for at-least 10 years and win a championship with the same team.
Curry recently made an appearance at Tamron Hall Show. He opened up about where he wants to end his career with the Warriors.
He said, "If you look at the NBA history, there are not a lot of guys able to play double digit years with the same team, the same organization, and for the same fan base and win championships and accomplish your goal that way.
"We all that we have accomplished, there is obviously a lot more left in the tank so I am not talking retirement anytime soon. But to be able to wear the Warrior jersey, this league is crazy. There is a lot of change.
"But for me to be able to play from one organization for my whole career, that's definitely a goal and I am excited about it."
Curry is only one of the few active players to stay with his parent team and win a championship. The superstar is back, and it sounds like he is ready to run it back.
What can we expect from Curry & co. this season
When it was announced that Klay Thompson suffered from yet another season ending injury, the hopes of the Warriors winning the title went down the drain.
The team did sign a good-enough replacement in Kelly Oubre Jr. but it won't be enough to replace Thompson's output. The Dubs will hope that he can at least replicate last season's form where he averaged 18.7 points, 1.5 assists and 6.4 rebounds.
ADVERTISEMENT
Article continues below this ad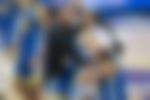 The team also has a new look front court. Apart from Draymond Green and Kevon Looney, the Warriors have added James Wiseman. The 7'1″ center is nowhere near a finished product but has all the elements necessary to be a long time center.
The Warriors will also hope that the existing players like Andrew Wiggins and Eric Paschall can step up their production. If the other players step up, Steve Kerr can at least limit Curry's play time and decrease the risk of another injury.
ADVERTISEMENT
Article continues below this ad
Despite Klay Thompson being absent, the Warriors have a solid roster. They can surely be a great competitor in the West and can be a thorn in any other side's playoff run. They can surely pull off a surprise or a two.