Stephen A. Smith Questions New York Knicks' Decision to Let Austin Rivers Go
Published 05/29/2021, 5:43 AM EDT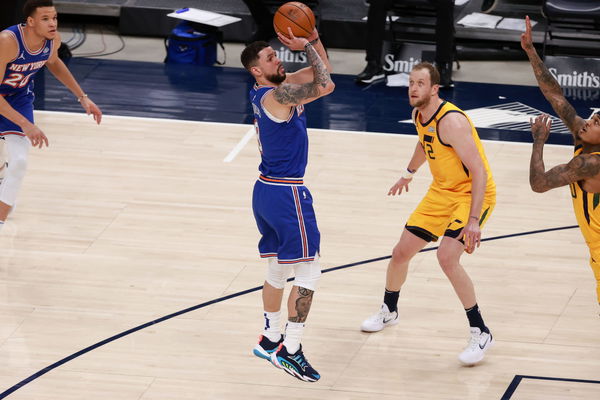 ---
---
The NBA playoffs are underway right now. With teams like the New York Knicks and Phoenix Suns finally breaking their long playoff droughts, we are in for an exciting post-season run.
The Nets, 76ers and Bucks are all seemingly cruising to the second round, while the Knicks and the Hawks are in an insane intense battle for a spot. With the Knicks traveling to Atlanta tomorrow, the team has to steal at least one game away from the Hawks if they want to tie this series.
Stephen A. Smith bashes Knicks for questionable decision during the season
The Knicks are certainly lacking in is the guard position. While Derrick Rose is a perfect spark plug option, he has had his injury issues in the past. Given Rose's dwindling health, the Knicks are forced to start Elfrid Payton.
But before Rose's arrival, the Knicks had a good shooter and guard in Austin Rivers. Analyst Stephen A. Smith spoke about why he Rivers didn't deserve to be traded from the team. "Austin Rivers a really good guy, a good player who shouldn't have been sitting at home unemployed waiting for his phone to ring before he had to accept a 10-day contract."
The veteran analyst also spoke about why Rivers' presence could have been the game changer for the Knicks and would have been essential in taking some pressure off of Derrick Rose.
" I think about how Austin Rivers could have been in New York this year that's what I was thinking about last night…. When I watched Austin Rivers drill those threes I said, 'he's supposed to be with us. He's supposed to be with us here in Atlanta right now getting ready to reclaim home advantage.'"
A player like Austin Rivers could certainly have been handy for the Knicks. The 27-year-old is coming off of a fantastic 21 point performance against the Blazers and helped the short-handed Nuggets to lead the series 2-1.
Given the offensive woes Julius Randle and RJ Barrett have shown till now, Rivers could have added in the guard rotation and could have hit important jumpers for the team as well. Will the Knicks regret letting go of Rivers in their playoff run?