Stephen A. Smith Raises Questions About Kevin Durant Picking Serge Ibaka over Russell Westbrook
Published 04/20/2021, 1:00 AM EDT
---
---
It has started to seem like a certain Brooklyn Nets superstar has a knack for getting himself into unpleasant situations. Kevin Durant recently omitted Russell Westbrook from the list of his top five teammates on the Million Dollaz Worth of Game Podcast, and this news spread like wildfire.
ADVERTISEMENT
Article continues below this ad
Not only did it cause an uproar on social media, but sports pundits and fans believed that this was a deliberate omission on KD's part. Although Durant seemed like he had made an honest mistake and just forgotten, even Stephen A. Smith couldn't believe his ears when he heard it.
How can it be Serge Ibaka instead of Russell Westbrook?
ADVERTISEMENT
Article continues below this ad
The Brooklyn Nets star, who has just recently returned to the lineup after an injury, is almost always in the limelight for something or the other. Despite sitting out, Kevin Durant had kept himself busy and was part of podcasts; but that doesn't seem to have gone as expected.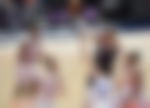 After snubbing Russell Westbrook intentionally or unintentionally, fans and analysts alike heavily criticized KD. And now, even Stephen A. has been added to the list of critics. In fact, what' more shocking to Smith was how Serge Ibaka made it to the list over Russell. Smith falls into the category of people who don't believe KD missed out on Russell's name by mistake.
On the podcast, Smith said, "I don't believe him, I highlighted the history that involves the both of them. I took into account what I saw, cuz I watched the segment on the podcast, ok? And I also brought up Serge Ibaka?? Kyrie, Harden, Klay, Steph, and IBAKA? Really?"
Smith made it clear that he has no hard feelings against Ibaka, but if he had to pick between him and Russ, it would be Russ. He said, "I would understand if he had picked Draymond over Ibaka. But Ibaka? Come on now. All I am trying to say to you is that I don't buy it."
Kevin Durant and Russ weren't on the best of terms
KD has had many talented teammates throughout his career, but he hasn't had the greatest relationship with all. Even though Westbrook and him now meet like friends, there was a time when that this seemed impossible.
ADVERTISEMENT
Article continues below this ad
When Durant left the Oklahoma City Thunder to join the Warriors, it was rumored that he didn't want to play with Westbrook. The reason behind this was that he thought Russ was a ball-hogger and kept the ball to himself.
The two played as teammates with OKC for almost a decade and saw some great success together too. The duo even helped OKC reach the NBA Finals in 2012 against the Miami Heat. They also made their way to the Conference Finals in 2016. Whether KD's comments were out of spite will remain a mystery, but on-court it has never seemed like the two of them have any bad blood.
ADVERTISEMENT
Article continues below this ad
Read also- 'Killer On-Court, Killer Off-Court': Former NBA Champion Explains Why Kevin Durant Gets Mad at Media