Stephen Curry Explains How LeBron James and Tom Brady Stand Out in All of Sports
Published 08/20/2021, 11:42 AM EDT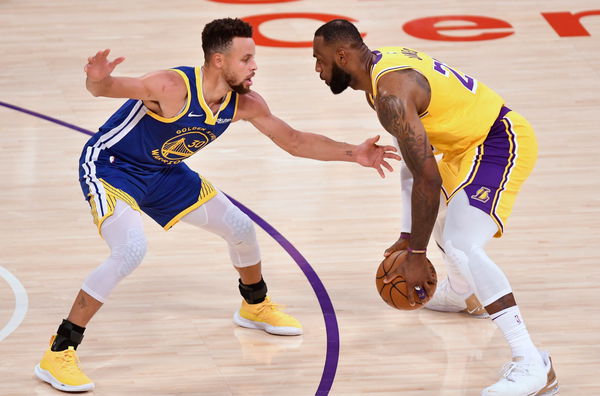 ---
---
LeBron James has been one of the most dominant players in the NBA for a while now. Drafted 1st overall in the 2003 NBA draft, LBJ's enormous talent was evident as he took the league by storm.
ADVERTISEMENT
Article continues below this ad
While many players from his draft class have either retired or have resorted to being role players, LBJ has continued to be a dominant force in the league. Be it his athleticism, his playmaking or his all-round basketball skills, it is absolutely astonishing to see that Bron is still in his prime.
ADVERTISEMENT
Article continues below this ad
Steph Curry explains what makes LeBron James and Tom Brady
Whenever it comes to longevity in sports, two names stand out, LeBron James and Tom Brady. Both the athletes have continued making unbeatable records and winning championships in the process.
Longtime rival and fellow NBA superstar Steph Curry recently spoke about Bron and Brady. In an interview with the Athletic, Curry explained how the duo is still dominating their respective sports. "'Bron, Tom Brady, Larry Fitzgerald, all those guys that have been around, been in all types of situations, but the love of the game is not just a cliche."
ADVERTISEMENT
Article continues below this ad
Curry added how the work the best players put in, sets them apart. "Everybody likes to get paid, likes to do what they want to do at the highest level and what comes with success, but you can't get it without the work."
Steph said how putting in the work can be tedious but ultimately is rewarding. "And the work is hard, boring at times and all of that. But the love for what you do is what drives it. If you don't see that, you might not realize what is possible."
ADVERTISEMENT
Article continues below this ad
What the likes of Bron and Brady have achieved over the years is truly unprecedented. Given the amount of time they have stayed at the top of their game, they rightly have secured legendary status.
For the upcoming season, 'King James' will hope that he can carry his immaculate form. If he can help the Lakers achieve yet another championship, not only will he prove his doubters wrong, he will also win his fifth title in his career. Do you think LeBron James can prove his haters wrong yet again?