Stephen Curry Hits Back at Boston Fans, for Mocking His Wife Ayesha Over Her Cooking Skills, With a Blatant Championship Flex
Published 06/18/2022, 2:51 AM EDT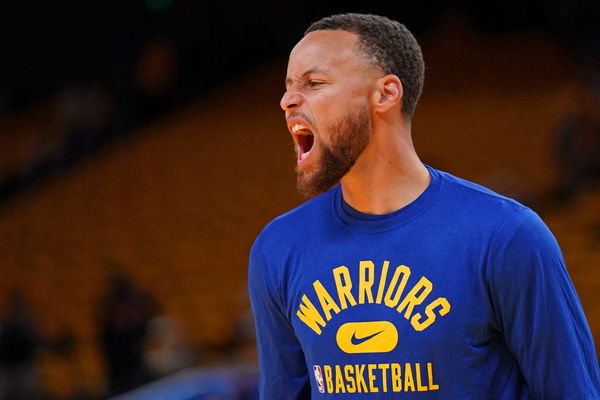 The Golden State Warriors are back to their golden status. The Warriors are the 2022 NBA champions. This was their 4th title in 8 years. After making 6 NBA finals appearances, the Warriors have lost only two of those. After two years of struggle, the Warriors are back where they belong and Stephen Curry has given it all.
The Boston Celtics were playing in the NBA finals after a long wait of 12 years. Despite being the franchise with 17 NBA titles in its history, the recent decade or so wasn't ideal. They won their last NBA title in 2008 and had not been the conference champions since 2010. 
ADVERTISEMENT
Article continues below this ad
So it was natural that the fans would support the team in every way possible. Even if that came at the cost of teasing and trolling Ayesha Curry to set off Steph. Unfortunately for them, Steph was not fazed and he has let them know after winning the title.
In the post-game conference of game-5, he was sporting a t-shirt that read "Ayesha Curry can't cook". 
WATCH THIS STORY: Ayesha Curry's net worth.
So now, after winning the NBA title and the Finals MVP, Steph posted a picture of him saying bye to Boston in his own way. He rocked his "goodnight" celebration and posed with the green t-shirt that once again read "Ayesha Curry can't cook".
What made Stephen Curry clap back at the Boston fans?
ADVERTISEMENT
Article continues below this ad
Trash talking is a big part of any sport. Be it among fans or players. People often rile up the opponents in any way possible to get them off their game. Unfortunately for the Boston fans, this banter only spiked Curry's performances.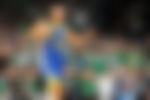 There were chants in between and banners before the game to have Steph's back on the wall. And for whatever reason, Steph did end up having a poor game in game 5 where he did not score a single three-pointer. However, the Warriors still fashioned a victory.
ADVERTISEMENT
Article continues below this ad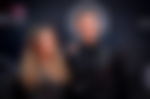 It was only one game that Steph did not hit his mark. He marked his stamp as the Finals MVP with 34 points in game 6. Ayesha Curry can't cook? Stephen Curry certainly did!