Steve Kerr Once Claimed Michael Jordan's Baseball Career Had No Impact on Bulls' Championship Hopes
Published 08/29/2021, 12:45 PM EDT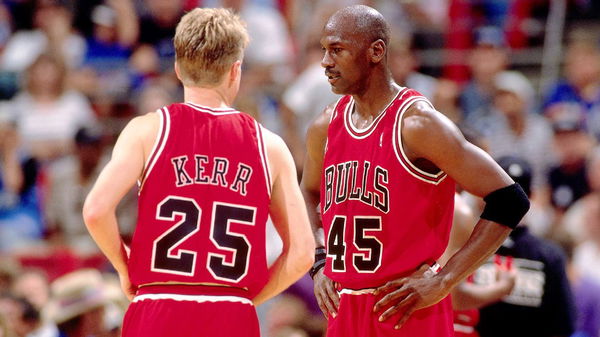 ---
---
Whenever their any discussion about the best teams ever in the NBA, the 90s Chicago Bulls are a constant. Led by arguably the GOAT in Michael Jordan, the Bulls were absolutely unstoppable in the league.
In the 90s decade, Bulls were undoubtedly the most dominant team in the league as they made it to six NBA Finals and won all six titles as well. They even broke multiple records and in one such season had a record of 72 wins and 10 losses in the 1995-96 season, a record only topped by 2015-16 Warriors.
Steve Kerr says baseball break helped Michael Jordan and Bulls to win second three-peat
The 90s Bulls were truly a record-breaking team. Only a handful of teams won had a three peat, only the Bulls and the Celtics have multiple three peats. This could have been a different case all-together though.
In the summer of 1994, Michael Jordan retired from the game and went to play amateur baseball. With MJ away, Bulls couldn't even reach the Conference Finals and struggled to assert their dominance.
Given that Jordan was away, many fans claim the Bulls could have won 8 in a row. But Steve Kerr squashed these claims. In an interview back in 2013, the former Bulls' guard claimed that the 2-year hiatus was necessary for the three-peat. "I think stepping away from the game for a couple years actually led to that second three-peat."
Kerr later explained why winning seven or eight titles in a row was impossible. "No way, no it wouldn't happen and not because of him. You win a couple years in a row and you're playing deep into June and every game is so emotional and and you're exerting so much energy to keep trying to do it, it's almost impossible."
Kerr does raise some valid points in his argument. While Jordan would have been his relentless self, his supporting cast might have had different plans all-together.
With teams like the Orlando Magic stepping up, MJ and the existing Bulls' supporting cast from the first three peat would have fallen flat against a much more physically demanding Magic side. Do you think Jordan and the Bulls could have won eight in a row if Jordan never left?