'Audacity to Ask Michael Jordan for Pointers': Steve Kerr Recalls His First Game Against Lakers Legend Kobe Bryant
Published 01/17/2021, 10:29 PM EST
---
---
Nobody can forget the day they received the news about the death of an NBA legend. Not only was Kobe Bryant the face of the Lakers franchise, but he was also the player who became synonymous with the sport. Fans identified the league with his name, and his death affected many.
ADVERTISEMENT
Article continues below this ad
What was worse than his death? The way he died. A tragic helicopter crash, which also took away his daughter Gianna and seven others.
It's been a year, but people can't stop recalling Kobe's iconic moments. One of these stories also involves the legendary Michael Jordan.
ADVERTISEMENT
Article continues below this ad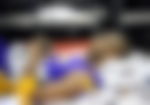 Kobe Bryant stood out by asking Michael Jordan questions
Like everybody else, Kerr was asked about the first time he played with Bryant. It was when Kerr was in Chicago and Kobe was with the Lakers. Steve said, "I just remember him asking Michael Jordan all these questions on the court the whole time. They were guarding each other. I could see that he was trying to get pointers. It was pretty interesting.
"He was obviously nowhere close to the player he became. But clearly, had the audacity to think that he was going to beat Michael Jordan because he was asking him for pointers. And Michael was giving it to him, he knew something himself." 
ADVERTISEMENT
Article continues below this ad
Kerr went on to talk about the unique qualities that made Kobe into one of the greats.
"He had the confidence you need to succeed. He had a ton of athleticism and skill. But I think ultimately what made him who he was: that audacity to ask Michael Jordan for pointers in his very first game against him. Think about most 18-year-olds, they would be scared to death to go against Michael. And he was just inquisitive. It was remarkable," explained Steve.
ADVERTISEMENT
Article continues below this ad
Well, there is no doubt that Kobe was like no other. And this story is the perfect example of that. Kobe and Jordan were identical in many ways. However, the legacy Bryant left behind will always be one of a kind.