Steve Nash Keeps Brooklyn Nets Fans Guessing About Kevin Durant's Return
Published 04/04/2021, 1:30 PM EDT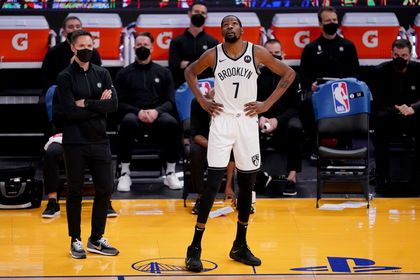 ---
---
The Brooklyn Nets are cruising atop the Eastern Conference table with a 34-15 record. They have been a formidable force in recent weeks, but the team is still without Kevin Durant. The latter has missed more than seven weeks due to injury, but Steve Nash provided a recent update that will go down well with Nets fans. 
ADVERTISEMENT
Article continues below this ad
The Brooklyn Nets are currently thriving under the heroics of James Harden and Kyrie Irving. But the man who lit up the league after coming back from injury has been sidelined once again due to a hamstring strain. But he is expected to back be real soon. 
Steve Nash drops update on Kevin Durant
ADVERTISEMENT
Article continues below this ad
Kevin Durant last played a game for the Brooklyn Nets on February 13, 2021. The forward played 33 minutes against the Golden State Warriors and scored 20 points, but he hasn't laced up his sneakers since.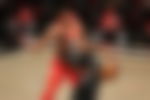 It was great to watch Kevin Durant come back from a nasty injury and post solid numbers. Just when the Nets were gelling with their improved roster, Durant's hamstring strain put a stop to his season. 
He's missed 20 straight fixtures since his last appearance in an NBA game, and that is a worrying sign indeed. However, Nets' head coach Steve Nash had some valuable input ahead of their upcoming game against the New York Knicks. 
"I am not certain on Monday," Nash mentioned. "I think it's an outside possibility, but I also couldn't say he's in any stretch probable for Monday. I think it's just wait and see. But it does look positive that this week sometime, there's a high probability he can return."
While Durant has no chance of returning to the roster on Sunday, Nash hasn't ruled out the possibility of him playing against the Knicks. 
Will the Brooklyn Nets fulfill the prophecy? 
An injury to Kevin Durant is the last thing a Nets fan would want to see. He seems like the undisputed leader of the 'Big Three' that is taking the NBA community by storm. We haven't seen them play together much, and it is essential that they do before stepping into the playoffs. 
Durant has just played 19 games this season, and he needs to remain healthy for the remainder of the calendar in order to boost the Nets' chances. If fit, there's no stopping the Brooklyn Nets from making their first NBA Finals in 18 years! 
ADVERTISEMENT
Article continues below this ad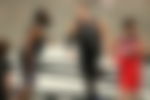 The key is for the 'Big Three' to support each other on the offense and terrorize opponents. They don't need to be schooled about that, but the lack of defensive players on the team is a problem. 
If Steve Nash finds a way to counter the team's shortcomings, the 2021 Brooklyn Nets are guaranteed a spot in the finals! 
ADVERTISEMENT
Article continues below this ad
Read Also: Sixers' Danny Green Interested to See How Nets Play After Kevin Durant's Comes Back