'Stone Faced, Straight Killer': Kevin Durant Reflects on First Encounter with NBA Legend Kobe Bryant
Published 01/14/2021, 5:23 AM EST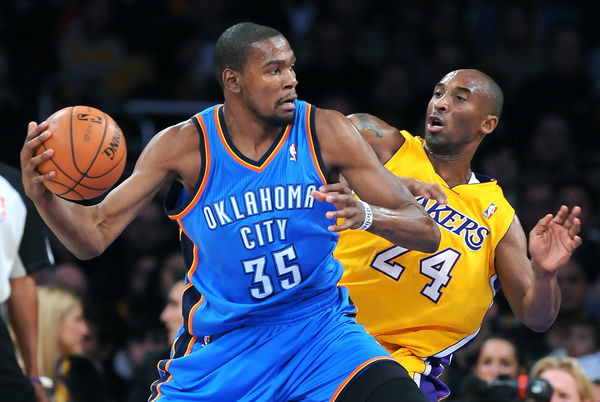 ---
---
Kobe Bryant had one of the most legendary careers in NBA history. Over the span of his 20-year career, Bryant won five NBA championships with the Los Angeles Lakers and broke records on a regular basis. Bryant was an inspiration to many players of this generation and was universally admired. Kevin Durant is one of these players who the Mamba left his mark on.
ADVERTISEMENT
Article continues below this ad
When Kevin Durant faced Kobe for the first time
Nets' Kevin Durant spoke to the press ahead of their game against the New York Knicks. When asked about his first experience playing against Kobe, Durant shared an interesting story that dated back to 2007, when Durant played for the now-defunct Seattle Supersonics, and Kobe was in the midst of his MVP season.
ADVERTISEMENT
Article continues below this ad
Durant said, "It was a pre-season game, I'm not going to even count that one. He's had 20 straight points in that game. But the first game in a regular season, we played the Lakers. They came to Seattle on a back-to-back. He had probably 44 shots and had 48 points and the game-winner. And he didn't say a word the whole game." 
Durant explained that Kobe was playing without the players that would eventually join the Lakers to win two NBA championships. He said, "His approach to that season because they started out that season without that championship team that they were building. He was just stone-faced, straight killer mode the whole game, and that's one of those moments that I'll never forget."
KD inspired by Kobe Bryant
ADVERTISEMENT
Article continues below this ad
Durant was asked about how Kobe inspired him, and he gave a fitting response. He noted that he tried to emulate everything that Kobe did, be it on the court, at practice, or even his interactions with the press. For Durant, Kobe was doing everything right, and Durant wanted to do it like him.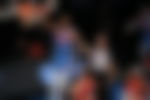 The Nets' superstar added, "Just how he moved, I tried to emulate how he moved down to what he said to the media, to how he worked out before the games, what he watched. I really tried to study as much as possible. I would never have told him that, but as a younger player, I was really just copying everything he did."
ADVERTISEMENT
Article continues below this ad
Kevin Durant went on to have a successful career, winning two NBA championships with the Golden State Warriors. And now, he hopes to lead the Brooklyn Nets to win their first NBA championship. With two All-Stars in Kyrie Irving and the newly acquired James Harden, he will have an excellent chance.