'Strip Club Hall of Famer' James Harden's $1.5 Million Splashing in 1 Night Led to Bizarre Jersey Retirement
Published 12/26/2022, 2:27 PM EST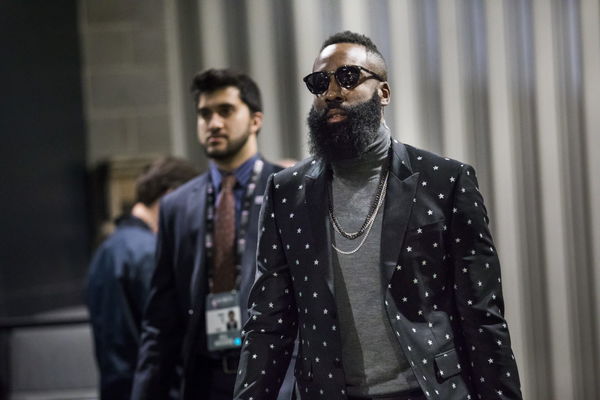 James Harden and his escapades have been part of NBA folklore for some time now. The 10-time NBA All-Star did something unbelievable back when he was with the Houston Rockets. Harden's partying habits led him to one of the most famous strip clubs in the city. Harden spent insane amounts of money on the establishment, surprising everyone. The then-Rockets star's crazy $1.5 million night at H-town's popular club led to his jersey being retired, but not by the Rockets.
The Rockets superstar was criticized quite a bit during his time in the city, mostly for his lack of work ethic and intermittent partying. Some of the stories about Harden's nightly escapades, like this one, have gathered plenty of negative attention from the public.
James Harden's crazy night at Houston's famous club got his jersey retired
ADVERTISEMENT
Article continues below this ad
Back in 2017, the Houston Rockets star decided to have the time of his life at the strip club Dreams. According to a report from the New Zealand Herald, the then-28-year-old superstar spent an insane $1.53 Million in a single night at a Houston club. The act was hailed by the club owners of Dreams, as they hung his jersey from the rafters as a sign of respect, implying his jersey has been retired by the club. The 'Strip Club Hall of Famer' moment was confirmed by the former co-host of the Joe Budden Podcast, Jamil 'Mal' Clay, during an episode of the show.
"James has his jersey like hanging from the top," said Clay. He further added, "They were doing that because they said James has been going in there spending like [a lot of money], you know what I mean? So they gave him his own jersey hanging from the rafters of the strip club."
The Philadelphia 76ers superstar has had a long journey since then. His trade from the Rockets to the Brooklyn Nets was not fruitful, to say the least. Meanwhile, his stint in Philly might as well be unsuccessful, recent reports suggest.
ADVERTISEMENT
Article continues below this ad
Harden's possible return to the Rockets
According to recent reports by ESPN, The Beard is "seriously considering" a return back to Houston. The 10-time All-Star's stint with the Philly side could end next year along with his contract.
Watch This Story: Stephen Curry, Klay Thompson, James Harden and other NBA stars having most games with 10 three pointers
ADVERTISEMENT
Article continues below this ad
However, Harden has not paid heed to the rumors, mentioning how he's "happy" with the 76ers. On the other hand, the Rockets don't have any hard feelings for Harden, as they have mentioned how he'll "always be a Rocket". 
Edited By: Satagni Sikder