Stephen Curry Leaves BTS and NBA World Starstruck With Latest Reaction to Warriors Fan Suga
Published 09/28/2022, 6:30 AM EDT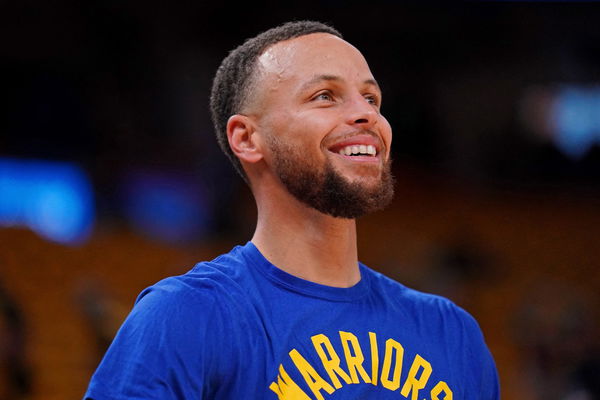 Stephen Curry, in his latest tweet, has left his fans dumbfounded. The Golden State Warriors superstar responded to a tweet of BTS star Suga holding a Warriors jersey. The tweet has already garnered over 175k likes and 40k retweets.
The Golden State Warriors in the past have recognized their famous fans from across the world. This includes a list of celebrities with diverse backgrounds and from different corners of the world. Manny Pacquiao, the legendary boxer, is a die-hard fan of the Warriors franchise and has attended several games and has also got the chance to play in the team's practice facility. 
ADVERTISEMENT
Article continues below this ad
George Lucas from the Star Wars franchise is also a massive fan of the team and even tried to purchase the team back in 2009. Dave Chapelle, the famous comedian, is also known to be a huge fan of the Warriors. The organization famously refers to him as "our friend Dave".
Hollywood actress Jessica Alba is another famous fan of the Warriors. She has supported the team since the 'We Believe' playoff run of 2007. Ronnie Lott, the San Francisco 49ers legend and four-time Super Bowl winner, is also an ardent supporter of the Dub Nation. The Warriors community loves him too, as he attends most games and also gives interviews.
Now the current NBA champions' fandom aims to capture the K-pop community's attention by appreciating the fan in Suga.
Suga and Stephen Curry cause a frenzy among fans
The BTS singer Suga is a huge fan of basketball and the NBA. In fact, his stage name is actually derived from the first two letters of the term 'Shooting Guard', which happens to be his favorite position on the basketball court. He has also expressed his admiration for other teams in the NBA by repping different jerseys on multiple occasions with his signature number on the back.
The Warrior's Twitter account posted a picture of Suga holding a custom-made jersey with his name and favorite number. Following this, BTS's official Twitter handle also posted the same picture.
The post has left the K-Pop and NBA fans across the world dumbfounded. Stephen Curry further added to this frenzy by responding to the picture. "Love the Jersey SUGA, See you soon" 
Watch the Story – Stephen Curry Net Worth: Is the Warriors Superstar a Billionaire 
From utter disbelief to overwhelming joy, these were some of the fan reactions on NBA Twitter:
This particular fan seems to be a stan of both, Steph and Suga.
ADVERTISEMENT
Article continues below this ad
ADVERTISEMENT
Article continues below this ad
Do you think Stephen Curry and the Golden State Warriors will be able to defend their crown next season? Let us know your thoughts in the comments below.