Suns' Chris Paul Explained What Made Him Respect Steph Curry Even Before He Made it To The NBA
Published 01/29/2021, 12:36 AM EST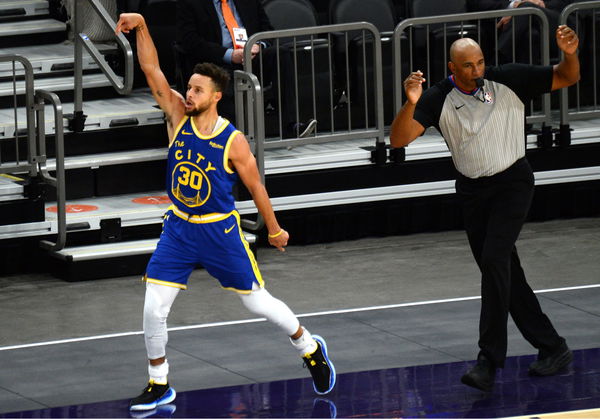 ---
---
Two of the league's most efficient point guards have not always seen eye-to-eye. In fact, they have also had interesting duels from the time Chris Paul joined the LA Clippers back in 2011 and throughout his time with the Houston Rockets as well. As Paul's Phoenix Suns were getting prepared to face Steph Curry and the Golden State Warriors, he spoke highly of someone everybody thought was his rival.
ADVERTISEMENT
Article continues below this ad
Steph Curry and Chris Paul's off-court friendship
Even before Curry entered the league, Paul knew the kind of person he is. And despite whatever went on between the two on the court, off the court, he always had respect for the Warriors' superstar.
ADVERTISEMENT
Article continues below this ad
In a pregame interview, Paul said, "What's crazy is we don't think of ourselves as old, and Steph is a grown man in his own right."
He went on and revealed the relationship the two have outside the NBA.
"But I do a point guard, an elite camp, every summer. Steph came to camp, right. So a lot of people don't know before Steph's rookie year he came on a family trip with my whole family," he stated.
"We went to Orlando like I went to take my kids to Disney World. Steph came with us and we worked out and we trained. Our families knew each other. I was with Octagon, we were the same agency. Steph and I have the same financial advisor. I have known Steph forever."
Respect for who he is beyond the game
Knowing Steph outside the game is what has made Paul respect him even more. He explained, "When he came into the league he had my respect because we had spent that real time together training and working out. And Steph just kept getting nicer and nicer and nicer."
Talking about them butting heads, that never affected his perception of him. "Like I said, he had my respect. But when I played for the Clippers and once we got into the playoff series, it just slowly started building. … But man, Steph been nice. It was just a matter of time for them to put in the system that was for him. The rest is history," he concluded.
In their matchup today, the Phoenix Suns held on to their lead and the Warriors trailed for most of the game. Thus, the game was over with the Suns' victory by 114-93.
ADVERTISEMENT
Article continues below this ad
The two teams won't be facing each other again anytime soon, so it looks like Chris Paul and Steph would have to hold off their rivalry until next time.
Read Also- Stephen Curry: Everything There is to Know About His Wife, Children and Family
ADVERTISEMENT
Article continues below this ad