Suns Coach Monty Williams Makes Eye-Opening Reveals About Devin Booker, Chris Paul and the NBA Finals
Published 08/14/2021, 3:16 PM EDT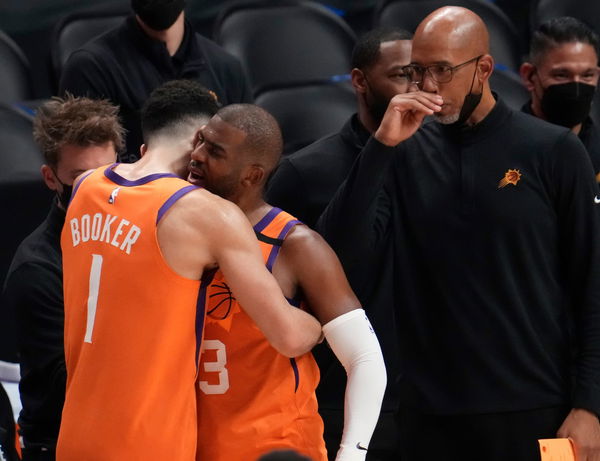 ---
---
Chris Paul and Devin Booker were 2 peas in a pod this season. In just their first season together, the duo put the league on notice, carrying the Valley to the NBA Finals for the first time since Charles Barkley led them in 1993. While almost everyone counted Phoenix out at every single turn, the Suns went through arguably 3 of the Top 5 teams in the Western Conference en route to the NBA Finals.
ADVERTISEMENT
Article continues below this ad
And even though the Finals were a case of 'so close, yet so far' for Book and CP3 falling to Milwaukee in 6 games, the duo were scintillating in Phoenix's fairytale run. Following a dominant run that came to such a bitter-sweet end for Monty Williams and his boys, their belief will be stronger than ever.
In fact, it was this belief that saw everyone rally together as everyone trashed Phoenix, and it will be this very belief that will propel them to push the limits even further.
ADVERTISEMENT
Article continues below this ad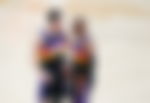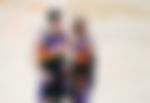 There has been no dearth of questions raised about Paul or Booker's ability to deliver on the biggest stages, especially in the aftermath of the Finals. However, Coach Monty Williams has begged to differ.
Coach Williams backs Chris Paul and Devin Booker
Williams and CP3 go way back to their days together with the New Orleans Hornets. Therefore, it's needless to say, that the trust level between the 2 is off the charts.
Following the events of the Finals, the head coach via an appearance on the 'Black History Always' podcast said, – "Book was dealing with a hamstring in Game 3. And he got all kinds of flak for what he couldn't do and what people didn't understand was that he was basically out there playing on 1 leg."
Suns coach Monty Williams defends Devin Booker's isolation-heavy play: "He makes the right plays. He probably doesn't get enough credit for that. It's when he takes a tough shot, he gets a little bit of criticism for that. But when he makes it, there's not much criticism."

— Mark Medina (@MarkG_Medina) July 21, 2021
Williams opened a door into the stars' thought process and mentality saying – "Those guys because they are tough, and never want to rely on excuses wouldn't say anything. And that part bothered me. Because I heard all the stuff that was being said about Devin and Chris in the finals."
Williams also referred to Milwaukee's conundrum as he said – "And at the same time, I'm sure if you talked to the staff with the Bucks, they'd tell you that Khris was dealing with this, and Giannis was dealing with that. They just happened to win."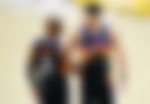 To conclude, Monty Williams addressed the learning curve, highlighting CP3 and Book's mental toughness and takeaways this offseason.
"The injury piece, especially the deal with Chris' wrist, that happened in the Clippers series. And he never made one excuse about it. But that's who he's been for a long, long time. And I'm sure all the stuff he heard is going to drive him in his workouts this summer. I'm also sure Devin feels the same way."
Back in the Gym
Is it likely that social media in a few weeks' time catches a glimpse of another one of these sessions at the practice facility? Probably!
ADVERTISEMENT
Article continues below this ad
Chris Paul is exactly who Devin Booker has been looking for to join/guide him in Phoenix. A floor general, A leader, A mentor. Book and Paul were a natural fit, that many experts saw coming following Paul's Phoenix signing in 2020. With game recognizing game, it's all love and adoration between the 2 stars, who continue to push each other, almost becoming living embodiments of the Mamba Mentality.
ADVERTISEMENT
Article continues below this ad
Is CP3 happy in the Valley? It's a definitive YES! With Paul now signing a long term 4-yr 120-million $ deal to stay in Arizona, count the Suns in to be right back, giving the best of the best, including Golden State and L.A. a run for their money!
WATCH THIS STORY: Michael Jordan, Kevin Durant & Other NBA Players That Forced The League to Change Rules