"System Is Rigged": Millionaire Bronny James Gets Bashed on NBA Twitter Only for Being LeBron James' Son Amid Major College Update
Published 08/13/2022, 2:30 PM EDT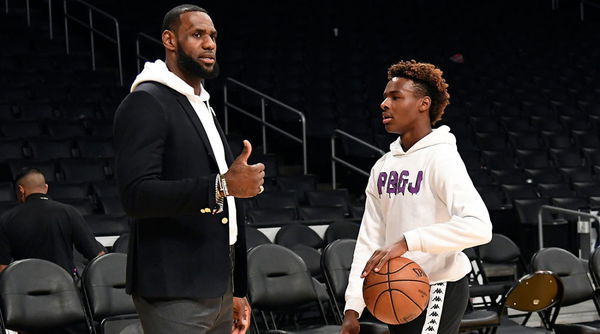 NBA superstar LeBron James is one of the best players ever. He was one of the most hyped-up high school players coming into the league. He was dubbed as the 'Chosen One' as people expected he would be the heir to Michael Jordan. And he didn't disappoint.
James hit the ground running in the NBA and lived up to the hype. While his style might be different from Jordan's, he has been a very close contender. Much like the Bulls legend, James is also very successful off the court.
ADVERTISEMENT
Article continues below this ad
However, the journeys of his children are different. LeBron James was raised by a struggling single mother. On the other hand, James is one of the richest athletes in the world at the moment. So his children definitely have a comfortable life. However, that doesn't downplay the amount of pressure that is on them because of their father's stature.
Fans expect them to be as good as the former MVP on the basketball court. There are always eyes on them and their actions are always under the microscope. Recently, Bronny and Bryce James played together for the first time in a competitive match. And James took to Twitter to share the proud moment.
Are there unfair advantages to being the son of LeBron James?
There is a considerable amount of hype around the future of Bronny James. It obviously isn't as much as what LeBron James garnered. However, there are still a lot of college teams that are interested in landing the youngster. As per recent reports, Bronny James is being recruited by UCLA, Michigan, Ohio State, Oregon, and USC, among others. However, some fans feel that it is unfair.
They eyeing a huge donation from his paps down the line😂. Nice move!

— God's Own (@Charlybibo) August 13, 2022
Not even top 2 in his family…

— Camden Carter (@crcarter2412) August 13, 2022
All For Clout. 2nd Rounder At Best

— LeBoring (@Gr8tBigChunky23) August 13, 2022
If his name was Bronny Smith, he wouldn't even be recruited by Walmart

— Dennis Dre Jr. (@DennisDreJr) August 13, 2022
ADVERTISEMENT
Article continues below this ad
Some fans felt that colleges are lining up for Bronny only because he is the son of one of the best players ever. However, that could be far from the truth. Bronny is about to begin his senior season at Sierra Canyon High School. He is currently ranked #39 overall in 2023 100. And he has been continuously improving his skills.
WATCH THIS STORY – Michael Jordans 5 Rumored Affairs After Divorce with Juanita Vanoy
ADVERTISEMENT
Article continues below this ad
Bronny definitely has the unfair advantage of practicing with his father, LeBron James. Recently, they were seen training together at the UCLA Health Training Center, the training facility for the Los Angeles Lakers. With one of the best basketball minds at his side, it will definitely be useful. However, that doesn't secure him a spot on any team.
Do you think Bronny James has an unfair advantage? Let us know in the comments.
Edited By: Pritam Priyedarshi