"Take My Hamstrings": Twitter Reacts as Devin Booker Gets Injured During Suns vs Warriors
Published 11/30/2021, 11:36 PM EST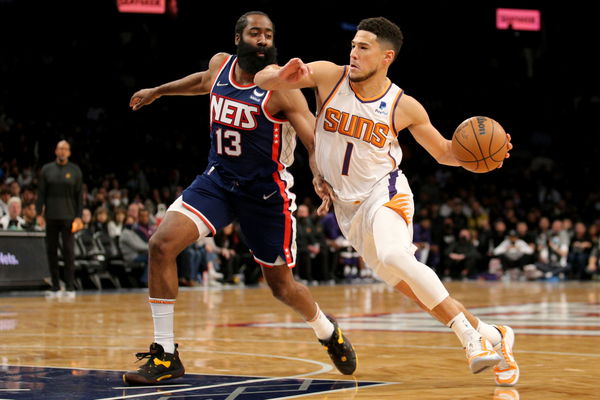 The NBA has started off great for some teams and underwhelming for others. Tonight, two of the best teams are battling it out as The Phoenix Suns host the Golden State Warriors. Both are the top two teams in the league and this matchup will be one to watch. However, who will come out on top? It won't be easy for the Suns as they lost their scorer, Devin Booker, for the game.
The Warriors have had a dream start to their season. Notably, their best start since their record 73-9 season. And they are still without Klay Thompson and James Wiseman in their lineup. They have clearly emerged as a because of the shooting supremacy as compared to their opponents. On the other hand, Phoenix is enjoying yet another great season under the leadership of Chris Paul. With an unbelievable 16 win streak of games, can the Suns extend their amazing record?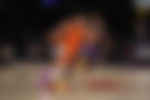 It will take a mammoth effort for the Suns to keep the streak as Devin Booker won't be checking in to the game. But one has to give him credit for not going to the locker room to get treatment, and instead staying on the sidelines to cheer for his team.
ADVERTISEMENT
Article continues below this ad
WATCH THIS STORY: NBA Stars That Shaquille O'Neal Has Taken Jabs at: Donovan Mitchell, James Harden & Others
Twitter reacts to Devin Booker's injury
While trying to attack the rim, Devin Booker collided with Otto Porter Jr. and landed awkwardly on his left leg. He immediately left the game to receive treatment. However, bad news hit as the Suns announced that Book won't be getting back in the game due to a left hamstring injury. Fans were heartbroken and wished the star a speedy recovery.
Just tapped into the game and Booker's hurt what tha fawkkk😃

— Dylan🌊🏁 (@dylannNoHoes) December 1, 2021
Booker Injured,Mickey Mouse win for golden state

— Kyrie Fan (@ExpertNba1) December 1, 2021
no Devin Booker for the rest of the game, I want to beat the Suns at full strength. no excuses.

— Arden Independence Cravalho (@a_cravalho) December 1, 2021
Damn! Devin Booker is out with a hamstring injury. That sucks!

— Rich Prime (@sonofabear97) December 1, 2021
This game doesn't count because Booker got hurt

— Coach (@CoachEvanB) December 1, 2021
Doubt the Suns can hold on to this lead without Booker

Especially knowing GSW and their 3rd quarters

— The Fundamentals (@KojoNketsia) December 1, 2021
Devin Booker take my hamstrings I don't need them

— Dallas 🌸🦦 (@blackmasstokki) December 1, 2021
Devin booker out the rest of the game that could help the dubs big time

— Tony Bushong (@Tonyb2182) December 1, 2021
ADVERTISEMENT
Article continues below this ad
Jordan Poole started off hot with a career high 16 first quarter points for the Warriors. Both teams were going bucket for bucket in the initial minutes. Phoenix dominated the game with their big men DeAndre Ayton and JaVale McGee who got to their spot with ease. But for Book, he was just about getting things going before going down. He checked out of the game with 10 points under his belt.
Booker is the main force that drives the Suns' offense. He is an elite scorer and his loss will be felt by the Suns without a doubt. However, they hold a two point advantage over the Warriors at the half. Do you think Chris Paul can work his magic and steal the game against the Warriors? Let us know in the comments below.
ADVERTISEMENT
Article continues below this ad