'Tapped Me on the Bu**': Former Kings Star Explains How Michael Jordan Gave Him His Welcome to the NBA Moment
Published 09/29/2021, 2:30 PM EDT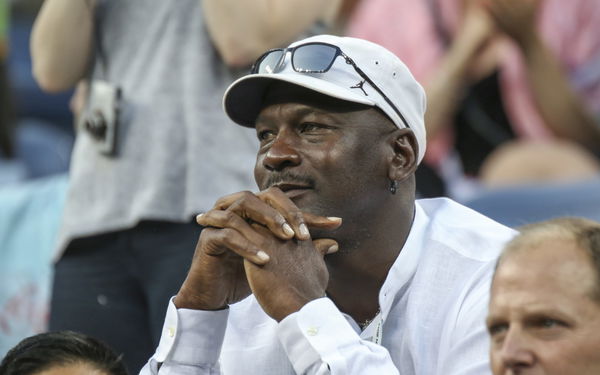 ---
---
Being one of the greatest of all time, Michael Jordan had a daunting aura about him, one that he maintained by trash-talking. Throughout his career with the Chicago Bulls, he successfully managed to humiliate his opponents in such a way that they would never forget it. Like many others, Walt Williams was a victim to that embarrassment, that too when he was just a rookie, playing for the Sacramento Kings.
ADVERTISEMENT
Article continues below this ad
How Michael Jordan gave Walt Williams his 'Welcome to the NBA' moment
Trash talking came naturally to somebody as dominant as Jordan. He not only played around with his rivals physically but shook them mentally as well. One such incident happened with Walt Williams as well. It was a preseason game between the Chicago Bulls and Sacramento Kings. Williams was supposed to run a pick-and-roll with his teammate, Mitch Richmond.
ADVERTISEMENT
Article continues below this ad
However, he changed the plan when Michael Jordan switched with Scottie Pippen and started defending him. He thought that this was his moment to pull off his signature crossover. "But when I went off the pick, I just kinda' looked and I said 'Oh man, I got an iso [isolation] right here against [Michael] Jordan.' If I score on him, I can call my boys and let them know I scored on Jordan, " confessed Walt Williams.
"So I waved Mitch [Richmond] off, broke the play, and tried to do my ISO. I came right at Jordan with my patented crossover, right to left crossover." Unfortunately, Jordan did not let him go through with it and stole the thunder. "Jordan stole that thing, went down, and did his emblem dunk," he further explained.
WATCH THIS STORY: Michael Jordan, LeBron James & Other NBA Players Who Have Been Relentlessly Trolled Through Memes
ADVERTISEMENT
Article continues below this ad
The humiliation did not end there Watch This Story
After this went down, Jordan could not help but give the rookie a piece of his mind. Walt said, "When he ran back down, he tapped me on the bu** and said 'we watch film up here, baby. I knew you was gonna do that fake-a– crossover'."
ADVERTISEMENT
Article continues below this ad
Wilt couldn't believe that Jordan had somehow studied him for a preseason game. Well, this is Jordan we are talking about. He does not take any game lightly, and this is a testament to that. On top of that, he even gave Walt a welcome to the league he will never forget.