Giannis Antetokounmpo Breaks a 53-YO NBA All-Star Record with a Rare Feat in ASG 2021
Published 03/08/2021, 12:18 AM EST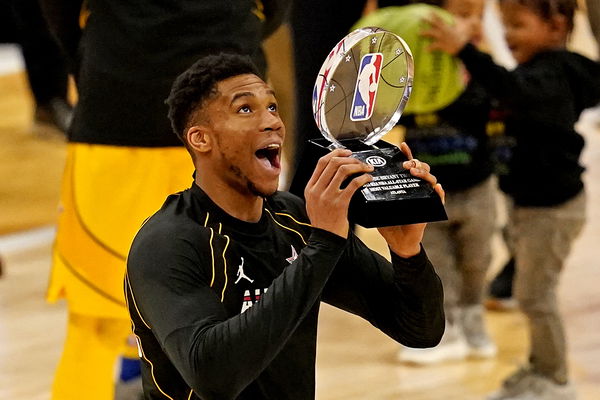 ---
---
LeBron James, once done with his NBA career, can really excel as a team owner, or at least as the Head of Operations or at any such position. Why? The way he carefully picks his All-Star teams cements him as one of those guys with the most brilliant basketball IQ. That he picked Giannis Antetokounmpo first has proved to be the best move in the ASG 2021. 
ADVERTISEMENT
Article continues below this ad
The Greek Freak captained the EC team that took a defeat against Team LeBron last year. This year, however, he became the most worthy member of Bron's team and deservingly won the ASMVP 2021. Apart from the heroics from Steph Curry and Damian Lillard, it was Buck's show.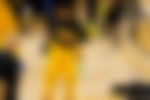 Giannis Antetokounmpo gave the NBA a night to remember
ADVERTISEMENT
Article continues below this ad
Just a few minutes into the game, Giannis was ruling with nine points, converting all the field attempts. Lesser did Team Durant know what was coming their way as the reigning MVP kept getting better with the game. As if Rudy Gobert was already not enough of a glass monitor, Giannis made the case even worse for the opposition.
He scored a whopping 35 points at 100% accuracy from the field. The freak converted each of his 16 field attempts in a rocking show of bull's eye insanity. This made him immortal in the NBA All-Star record books just as he broke an age-old record and bettered it by double the figures.
According to @EliasSports Giannis Antetokounmpo records the best FG pct (100%) in an All-Star game ever, with a minimum of 10 attempts.

The previous record for most makes without a miss in an All-Star game belonged to Hal Greer, going 8-for-8 on Jan. 23, 1968. pic.twitter.com/8EGV6BmMyT

— ESPN Stats & Info (@ESPNStatsInfo) March 8, 2021
That was the cleanest performance one can expect from himself, and Giannis just reached the pinnacle of that performance.
Read Also – NBA All-Star: Best Friends Chris Paul and LeBron James Break Assists Records Together
Why "Fear the Deer" hereon?
The AT&T 5G Slam Cam captured a three-pointer that made it clear how fearless the deer was tonight. He dropped an unorthodox (at least for Giannis) three-pointer over Zach LaVine and basked in glory during the mid Q3.
ADVERTISEMENT
Article continues below this ad
That shot surprised everyone, and it proved an underlying fact. Giannis Antetokounmpo is a scoring machine when he has the right pieces around him and when he does not have to be that do-it-all guy.
Tonight, he was playing more freely and enjoying himself that resulted in a spotless performance. If the Bucks could provide half the support he had from his All-Star teammates, this man can not just win his third regular-season MVP, but also take the Bucks to ultimate success.
ADVERTISEMENT
Article continues below this ad
They played the song, Glorious, just as Giannis lifted his Kobe Bryant MVP trophy and held it high to show how he can rule the field from anywhere. Do you think he can build on this performance when the Bucks start their second half later this week? Help us know in the comments.