'Tear the Rim': Shaquille O'Neal Picks LeBron James, Steph Curry, and Two Other Players to Team with Him
Published 02/27/2021, 10:30 PM EST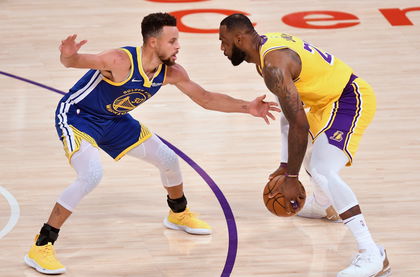 ---
---
It is always interesting to ponder over NBA fantasy teams and make assumptions to form a squad that is undefeatable. While it is literally impossible that LeBron James and Stephen Curry can play for the same team, everything is acceptable in the utopia of imagination.
ADVERTISEMENT
Article continues below this ad
Former NBA Champion Shaquille O' Neal also has his own dream teams. But unlike the regular people, Shaq has very calculated and precise reasoning behind fixating his dreamy roster. So, who qualifies to play alongside this giant legend? 
Shaquille O'Neal and his personalized Top Five
ADVERTISEMENT
Article continues below this ad
In a recent interview, the 48-YO phenom picked the four other players that can make a quintessential starting line-up with him. Without hesitating, the star picked, "Steph Curry, Klay Thompson, phew… Zion Williamson, and LeBron, yes."
It was surprising to see that Shaq did not pick any player from the Eastern Conference to form his imaginary team. In fact, he even left out the stars like Luka Doncic or the Nets' Big Three when he selected those names. 
But before anyone could make any hollow narrative, Shaq himself broke down the dynamics that went into fixing the team. He critically expressed, "Okay, you're gonna have to double me, and Steph and Klay would be wide open, right. LeBron's gonna get that tank, take it off the glass, and go full speed. He's gonna have three guys that's gonna be in front of him. I'll trail, I don't want to be in nobody's way. So he's going to have two guys on the wing, Steph and Klay. Then you have another guy that's going to tear the rim off, Zion Williamson. That's my five right there and nobody's beating us."
Wow, that sounded like a motivated coach chalking out a night's play strategy with his best men. He got the perimeter, the paint, and the defense, all covered with that balanced team.
LeBron James or Steph Curry, who leads Shaq's unit?
Well, this can startle a few people, but The Big Shamrock sees his clear favorite in Warriors' Stephen Curry. Shaquille O'Neal is a hard man to please, and more so when he discusses the young gen players. Still, he has accepted it on NBA on TNT that Steph is his clear favorite because of the uniqueness in his game.
ADVERTISEMENT
Article continues below this ad
It's amazing how a 7'1" big boulder is amazed by the playing style of a 6'3" point guard. But given that Steph Curry is known for changing the way they play NBA Basketball today, it is not surprising that Shaq always counts his list starting with Curry first.
From this, it is also clear that if Shaq was to captain an All-star team, his first draft pick was Steph Curry and not LeBron James or Kevin Durant.
Do you agree with Shaq's choice or do you see him missing out on somebody? Help us know your opinion in the comments.
ADVERTISEMENT
Article continues below this ad
Read Also – 'I Was Just Testing Out': Shaquille O'Neal Opens Up on His Remarks About Donovan Mitchell