"Tell My Girlfriend to Come Over Here": Ex-Wife Was Floored by Brittney Griner's Proposal Despite Not Being Attracted to Women
Published 08/23/2022, 11:30 AM EDT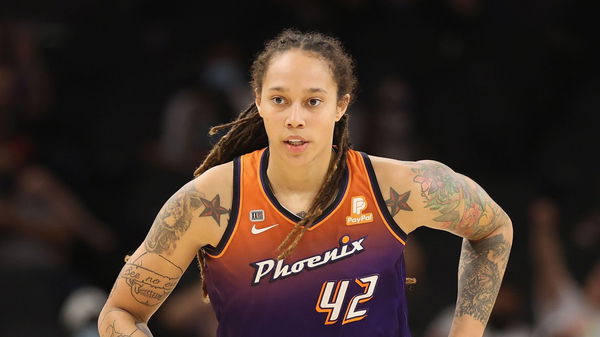 Former WNBA star Glory Johnson once revealed in an interview why she agreed to the marriage proposal of her ex-wife Brittney Griner, despite being a straight woman. In addition, Johnson also opened up about the startling details of her short but tumultuous marriage with Griner. As it turns out, the former Tulsa Shock forward described how things went south quickly in what she thought would turn out to be a blissful relationship.
Glory Johnson met fellow WNBA star Brittney Griner in a Las Vegas basketball camp in 2013. From the very beginning, the Phoenix Mercury star displayed an affinity towards Johnson. Soon after, the two hoopers started hanging out together.
ADVERTISEMENT
Article continues below this ad
As it turns out, Johnson gradually developed some feelings for the 6'9″ center despite being heterosexual. Later on, she would reveal in an interview that she fell in love with Griner's person, rather than her sexuality.
Griner's proposal to Glory Johnson
In 2014, Brittney Griner took Glory Johnson to a party and surprised her with a marriage proposal. "Tell my girlfriend to come over here," Griner announced on a microphone, dressed aptly in a bow tie for the special occasion.
Subsequently, she got down on one knee and popped the question to Johnson. "I automatically started crying," revealed the former Dallas Wings star in an interview. "I was just shaking my head like, it's too much for me right now."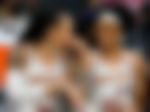 In other words, Johnson explained that she was not prepared for the question. However, she couldn't say no in front of a room full of people. "What am I going to say, no? All the cameras are in my face," she added.
Meanwhile, she also explained that she wasn't completely averse to the idea. "I was happy at the same time," the 6'3″ forward said. "It was something that I wanted."
Johnson's failed marriage with Brittney Griner
In April 2015, the police would arrive at Griner and Johnson's residence in suburban Phoenix in response to a domestic abuse call. Both of them had minor injuries from a physical altercation.
ADVERTISEMENT
Article continues below this ad
However, the couple would end up married only for another couple of weeks. As their differences soon resurfaced, Griner filed for an annulment after less than a month of marriage.
WATCH THIS STORY: 3 Times Stephen Curry lost his cool on the court
ADVERTISEMENT
Article continues below this ad
In October of the same year, Johnson would welcome twin girls 16 weeks premature born through IVF procedure. However, Brittney Griner denied any involvement in the birth of the twins.
Later on, Johnson would reveal in an interview that she felt betrayed by Griner in their brief but tumultuous marriage.
Edited By: Pritam Priyedarshi