"Thank You to the GOAT": Singer Giveon Reacts as LeBron James Makes Crowd Go Berserk at His Concert in LA
Published 01/04/2022, 1:35 PM EST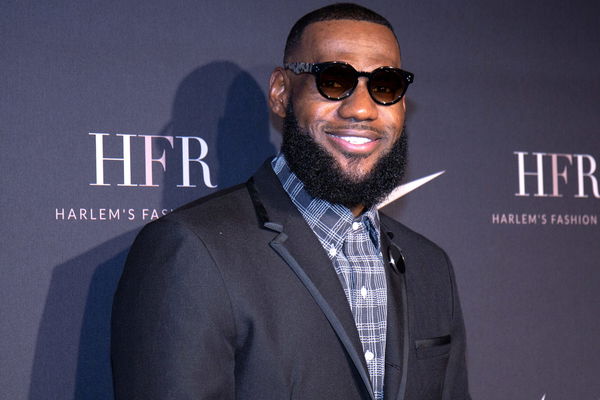 On Tuesday, Lakers star LeBron James attended a concert in Los Angeles. Currently taking part in a hectic regular season, James took the time out to attend the event. The concert was that of popular artist Giveon, who knows LeBron very well. As the 37-year-old took to social media to post about his appearance, the singer expressed his gratitude in fine style. Have a look.
WATCH THIS STORY: Splash! Stephen Curry's Top-10 Buzzer Beater Game Winners
For close to twenty years now, 'King' LeBron James has dominated the NBA in fine style. In spite of missing several games in the 2021-22 season so far, his return has been instrumental in the Lakers' recovery. Similarly, James has had vital parts to play even during his stints with the Cleveland Cavaliers and Miami Heat. Regardless of his on-court commitments, the ace forward has always made time to maintain his off-court relationships as well. One of the biggest names going around, LeBron is known to one and all. This is why, when he made his appearance at Giveon's concert, it left the man himself spellbound and grateful.
ADVERTISEMENT
Article continues below this ad
WATCH: LeBron James attends Giveon's concert, star singer reacts
An extremely talented 26-year-old, Giveon Dezmann Evans has been on tour for a while now. He has released several hit numbers, which have gone on to become massive hits. Among others, his most notable performance was in 2020, when he collaborated with Drake in 'Chicago Freestyle'. On Tuesday, Giveon was set to perform in Los Angeles in front of a packed crowd. To everyone's surprise, the 17-time All-star and Lakers legend was also in attendance, showing his support to the fellow celebrity. Here's an exclusive clip.
ADVERTISEMENT
Article continues below this ad
As seen, Giveon as well as the rest of the crowd chant "LeBron, LeBron!" The artist has always been a fan of James, and evidently so. In a series of stories on Instagram, James shared images and clips from his appearance at the event. In return, Giveon expressed his gratitude towards 'Bron', whose presence would've been special for the youngster. In fact, he made a bold claim while thanking the 4-time NBA winner on social media, stating "Thank you to the GOAT @kingjames for coming out… my brother 4L."
ADVERTISEMENT
Article continues below this ad
Giveon is most certainly not the first celebrity to hand the GOAT debate to LeBron James. After all, the starlet has earned every single piece of respect that comes his way. Even after so many years in the league, he continues to remain humble and dedicated to the sport!