'Thanos or Maybe Jesus': Blazers' Star Pokes Fun at Brooklyn Nets Building a Super Team
Published 03/28/2021, 6:45 AM EDT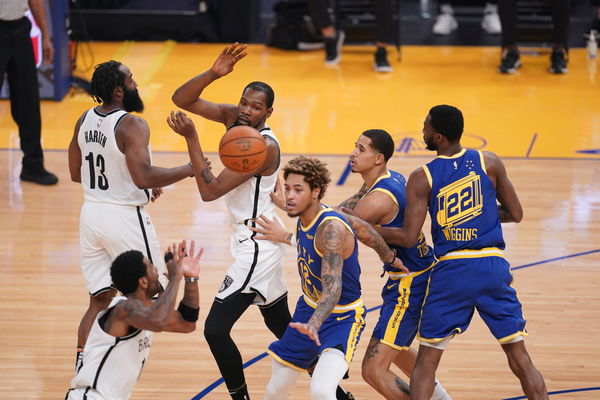 ---
---
The Brooklyn Nets have become an absolute juggernaut in the NBA. After starting the season with two All-Stars in Kyrie Irving and Kevin Durant, the Nets have slowly been building one of the greatest super-teams of all time. Since January, the Nets have acquired James Harden, Blake Griffin, and now LaMarcus Aldridge, allowing the team to have six current or former NBA All-Stars.
ADVERTISEMENT
Article continues below this ad
Enes Kanter trolls the Nets
Portland Trail Blazers' Enes Kanter took to Twitter to make fun of the Nets' team building. NBA insider Adrian Wojnarowski revealed that the Brooklyn Nets have one more roster spot open. They can use said roster spot in the buyout market. Kanter responded on Twitter, jokingly suggesting that they may bring in powerful back-up beyond the realm of NBA.
ADVERTISEMENT
Article continues below this ad
The Brooklyn Nets have drawn the envy of several teams in the NBA. They have acquired several current and former NBA superstars, and are looking like the undisputed favorites to win the NBA championship. The trio of Kyrie Irving, Kevin Durant, and James Harden alone makes them unstoppable, but adding several veterans who have had experience being top players makes them very difficult to play.
The new signings of LaMarcus Aldridge and Blake Griffin are yet to make a major impact so far. While Griffin has started to look a bit like his former self, he is no longer an All-Star caliber player. However, he can still be a very strong and reliable fourth scoring option and adds a new dynamic for the franchise. LaMarcus Aldridge adds a lot of size to a team that really needs that.
Brooklyn Nets: Greatest Super-Team ever?
ADVERTISEMENT
Article continues below this ad
The Brooklyn Nets have assembled, what could possibly be, the most unstoppable super-team in NBA history. After the collapse of the Golden State Warriors, fans were relieved that the era of unstoppable super teams had died down. But the Brooklyn Nets look hell-bent to bring it back in order to give themselves the best chance to win their first NBA championship.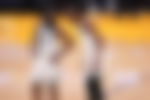 ADVERTISEMENT
Article continues below this ad
Can the Brooklyn Nets win the NBA championship? While they have assembled a solid team on paper, the NBA isn't played on paper. The players they acquired have to step up in the biggest moments for them to win. Kyrie Irving and Kevin Durant have won NBA championships in the past. However, there are several question marks for other players on the team.