'That Ain't Nothing': Blazers' Damian Lillard Downplays Simmering Feud With Clippers' Paul George
Published 06/03/2021, 6:30 AM EDT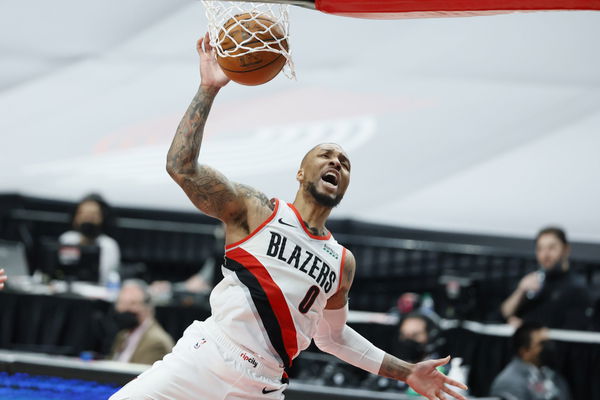 Paul George and Damian Lillard are two of the most exquisite three-point shooters in the league, but that's not what they were in the news for. The two have been seen taking shots at each other on and off the court.
ADVERTISEMENT
Article continues below this ad
Their rivalry began back in 2019 when Portland Trail Blazers eliminated PG's Oklahoma City Thunder from the playoffs and continued in the Orlando Bubble last season.
In fact, things became so heated that even Paul's Clippers' teammate, Patrick Beverley, got entangled in it. However, it seems like Damian Lillard is now denying having any sort of history with the Clippers star.
ADVERTISEMENT
Article continues below this ad
Damian Lillard belittles rivalry with Paul George
Both the LA Clippers and the Blazers are in the playoffs right now, fighting to stay alive. While the Clippers are trailing the Mavericks 3-2, the same is the case with the Blazers against the Nuggets.
That aside, Lillard was recently asked about some professional rivalries he has had in the league.
While he included Russell Westbrook and Patrick Beverley in that category, he failed to mention George altogether. So, when questioned about it, he stated, "Me and him kind of don't have a back-and-forth history. "
"The only history we have is when I hit the shot on them against OKC and when we got into it in the bubble. To me, that ain't nothing. I haven't said anything but the truth. That ain't a back and forth to me."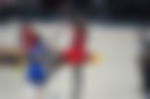 What transpired between the two superstars?
Their simmering beef began when George criticized Lillard's game-winning shot against his team OKC that eliminated them from the playoffs in 2019. In fact, he outrightly called it a "bad shot".
"That's a bad shot. I don't care what anybody says. That's a bad shot. But, hey, he made it. That story won't be told, that it is a bad shot. You live with that." – Paul George on Damian Lillard's game winner.

Dame was 8 of 12 from 30+ feet in the series. 4 of 6 in GM5. pic.twitter.com/YTZRIaztKT

— Ballislife.com (@Ballislife) April 24, 2019
It further spiraled out of control when Beverley passed judgment on Lillard, who missed two critical free throws against LA by pointing at his wrist and mocking "Dame Time".
Although this time, Lillard hit back. He reminded them that he had kicked them both in different postseasons. This led to PG warning him that the Blazers and he will be out of the Orlando Bubble soon.
ADVERTISEMENT
Article continues below this ad
The feud finally came to a conclusion when George admitted to being somewhat wrong about Lillard. When he saw Dame dropping threes left and right during the season and in the All-Star Game as well, he accepted that Dame's range shouldn't be questioned.
I asked Paul George about the range in today's NBA.

PG: "Well I guess i was criticized for the right reason for calling Dame's shot in the playoffs a bad shot. I mean I see this guy's range is crazy."

Me: "So is that no longer a bad shot?"

PG: "It's a great shot. 2 thumbs up." pic.twitter.com/fFZhlNREvc

— Tomer Azarly (@TomerAzarly) March 8, 2021
ADVERTISEMENT
Article continues below this ad
Has this war of words died down completely? Or is this the calm before the storm? Well, it all depends on whether these two teams make it to the second round of the playoffs. A Lillard and PG face-off that everyone wants, right?
WATCH THIS STORY: LeBron James' Best Clutch Moments of His Playoff Career Against Jimmy Butler, Victor Oladipo & Others