"That Brothel Owner Tried to Kill Me": Once Rescued by Khloe Kardashian, Ex-Lakers Star Lamar Odom Makes a Scary Revelation
Published 01/24/2023, 11:10 AM EST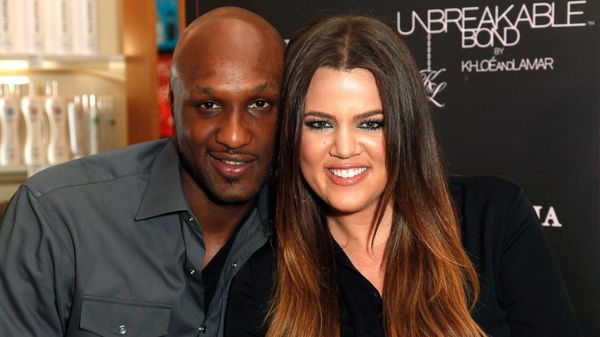 The chatters about the lost relationship between Los Angeles Lakers legend Lamar Odom and reality TV star Khloe Kardashian have been triggered yet again with the release of the NBA veteran's new documentary. In the recently released documentary on Fox primetime special, Odom made some serious revelations about his drug addiction and infidelity rumors. Moreover, Odom also expressed his desire to reconnect with Khloe Kardashian. Notably, former Lakers star Lamar Odom, who was once rescued by Khloe Kardashian from a brothel in Nevada, also made a scary revelation about his life-threatening stay at the Love Ranch.
Lamar Odom suffered a huge drug overdose at the Love Ranch South brothel in Pahrump, Nevada. Apparently, his former wife Khloe Kardashian had to visit the brothel to save a dying Odom in October 2015. The two-time NBA champ was on life support after suffering from kidney failure and several heart attacks. However, he eventually gained consciousness a few days later. In his recent documentary 'TMZ Presents: Lamar Odom: Sex, Drugs & Kardashians', Lamar Odom made a baffling claim about the late owner of the Love Ranch, Dennis Hof.
Lamar Odom makes a serious accusation against Nevada brothel owner
ADVERTISEMENT
Article continues below this ad
As seen in a recently shared clip by TMZ, Lamar Odom told TMZ's Harvey Levin, "That brothel owner tried to kill me." In response, Harvey questioned Odom, "First of all, why would Dennis Hof want to kill you?" Lamar Odom replied, "I don't know Harvey. I don't know. This is only what I can tell you. I went there, I didn't do any drugs that night. I wound up with drugs in my system." 
Meanwhile, Harvey pointed out that there were rumors that Odom had taken cocaine during the first night of his stay at the brothel. The Lakers legend revealed, "There was only one night, as far as I'm concerned. I got there, had a drink, and woke up three days later ripping tubes out of my neck, not knowing how I got there, unable to speak or walk."
Thus, Lamar Odom made a shocking revelation about staying just one night at the brothel. Moreover, he claimed to have not consumed any drugs. He insisted on having no knowledge of what happened during his stay. In addition, Odom also accused the late owner Dennis Hof of drugging him. Further, Levin asked him if he was positive about not taking drugs during his trip. Lamar Odom responded, "As much as I'm positive, I'm a Black man sitting in front of you."
ADVERTISEMENT
Article continues below this ad
After finding an overdosed Odom in a Nevada brothel, Khloe Kardashian decided to remain by the NBA veteran's side during tough times. However, the couple eventually separated when Odom's condition improved.
Khloe Kardashian called off the divorce after the 2015 incident
After saving her then-husband Lamar Odom, Khloe Kardashian retracted her request for divorce during the aftermath of the brothel scenario. However, Khloe clarified that she had not reconciled with Odom.  She was just there to assist him through his recovery. Finally, in 2016, the divorce was refiled by Kardashian, and the former couple split after seven years of marriage.
ADVERTISEMENT
Article continues below this ad
WATCH THIS STORY: Kobe Bryant meeting paled in comparison to NASCAR drivers encounter with this Hollywood star once I never see her again
Thus, Khloe remained by Lamar Odom's side during his recovery but eventually decided to walk away following a disappointing marriage with the former Lakers star. 
Edited By: Satagni Sikder