"That Hurts": Klay Thompson Suffers Peculiar Setback on the Way to Warriors' Championship Parade
Published 06/21/2022, 8:30 AM EDT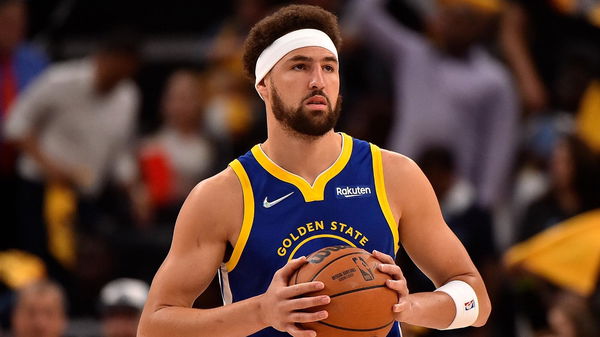 Klay Thompson faced a unique challenge on his way to the Warriors' championship parade. The four-time NBA champion lost his hat while speeding on the water in a boat. The incident made Thompson visibly upset.
The hat was not an ordinary one. In fact, it was part of the 2022 championship apparel awarded to the Warriors after winning the NBA Finals. Thompson's discontent is quite understandable, considering it seemed almost impossible to recover the hat. The whole thing happened during a live stream.
Klay Thompson loses his hat on his way to the parade
ADVERTISEMENT
Article continues below this ad
While speeding through the ocean, a sudden gust of wind blew Klay Thompson's hat away. The Warriors star could do nothing but blankly stare at it the rapidly disappearing in the distance.
"Oh no, I lost my hat", said Thompson, forcing a smile. "That hurts, That hurts", he added. After that, he reversed the steering wheel of his boat probably to try to recover the hat.
However, it is difficult to say if he managed to recover it. The whole incident got caught in a live stream. Therefore, fans got to see a live reaction of the Dubs shooting guard to the whole debacle.
Warriors bagged fourth championship in eight years
The Golden State Warriors bagged their fourth NBA championship in eight years after defeating the Boston Celtics 103-90 in Game 6 of the NBA Finals. There could be no better way to commemorate Thompson's return to basketball after a long hiatus.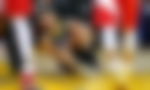 Klay Thompson missed the entire previous season because of a ruptured Achilles. Before that, he couldn't play in the 2019-2020 season because of a torn ACL. The Warriors team struggled to stay afloat in the league in the absence of Klay.
ADVERTISEMENT
Article continues below this ad
In the 2019-29 season, the Warriors had the worst record in the NBA. Next year, things improved with the return of Steph Curry from injury. But even an MVP-caliber season from Curry couldn't take the Warriors to the playoffs.
They finished 9th in the West with a record of just over 500. However, things started to change after Klay Thompson's return this year. In a matter of months, Klay reverted to his lethal former self and secured his fourth ring.
ADVERTISEMENT
Article continues below this ad
Watch this Story: Fans Are Curious Who is Stephen Currys Father Dells New Girlfriend
Even though he averaged only 17 points in the Finals, the influence of the younger Splash brother on the Warriors' roster is paramount.