"That's the Same Possibility as Me Dating Rihanna": Lakers Fans Are Fuming After Latest Russell Westbrook Update Suggests Harsh Reality About His Future
Published 06/24/2022, 4:30 PM EDT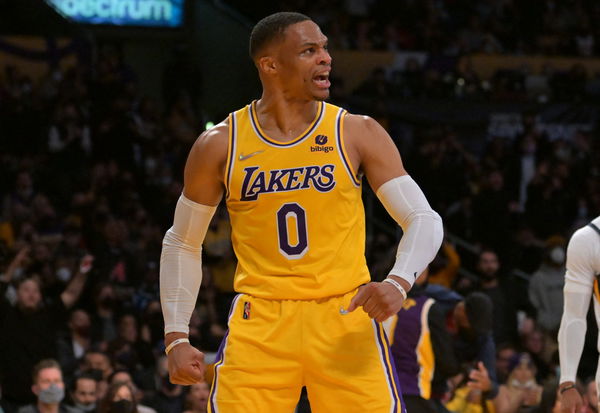 The season is over. The NBA drafts are done. The new season dawns upon us. For some teams, it's rest time and vacation. For some it's recovery. Moreover, for other teams, it's preparation day 1. One such team is the Los Angeles Lakers. Their biggest concern right now is their big three: LeBron James, Anthony Davis, and Russell Westbrook.
While LeBron pushed for Russ West's trade to the Lakers, and AD looked optimistically at the new season, neither of the two played their best. AD missed the better part of the season due to multiple injuries. On the other hand, the trade of Russ simply did not work. He did not fit in and Frank Vogel could not bring the best out of him. Many people accused Frank Vogel of that. So it became natural that with the new head coach, the first course of action will be the specified roles of the players.
"Rob Pelinka says he and Davin Ham have had multiple meetings with Russell Westbrook and have been honest about Russ' role on the team and that he needs to be a defense-first player."

(via @jovanbuha) pic.twitter.com/9eJL8HUgrU

— Hoop Central (@TheHoopCentral) June 24, 2022
ADVERTISEMENT
Article continues below this ad
Rob Pelinka has a job on his hands to orchestrate the proceedings in such a way that Darvin Ham is able to connect with the players. As of right now, the best thing for the Lakers as a team is to communicate well. So talking to Russ about his role is something that is vital. How much help it is going to do is another argument.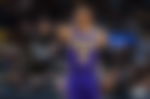 The role Russ West can excel is kind of covered by LeBron in Lakers and that made Russ without purpose. He lost his way and never came back into his own last season. But this can change pretty quickly. Agreed it was a poor season, but it was still only the first. Now a veteran like Westbrook knows his strengths and weaknesses well.
Laker nation raging on the role talk with Russell Westbrook
Now it is public that Russ is being considered for a more defensive role going forward. With LeBron in the team, you have to make the gameplay such that he has most of the ball. Simply because he is LeBron. Even at 37-38, he can produce moments of magic and those are worth giving him his due importance.
Fans were raging mainly because they did not feel it was fair to 'change' his game at this age just to stay on the team.
Russ playing defense? That's the same possibility as me dating rihanna

— ⁶ʟᴇʙʀᴏɴᴄʜɪᴛɪꜱ🌟 (@RunItBron) June 24, 2022
Expecting someone to randomly become some defensive specialist this late in their career is a huge ask. Would be great if he did tho

— RoseBTH🌹 (@DRoseBTH) June 24, 2022
Washed? After averaging 18 7 and 7 is crazy

— Here4daComments (@Here4daC) June 24, 2022
You missed the point they DONT want him primarily taking mad shots pass the ball n get yours off rebounds n steals more than just jackin up shots

— BabyWizardKellyYall🗽🧙🏽‍♀️ (@BabyWizardKelly) June 24, 2022
Aint happening. At this point Russ isnt going to become defensive first. Cant change the stripes on a zebra, dude is what he is. 2nd, 3rd year Russ, maybe. 33 year old Russ, NO EFFING WAY.

Stop bullsh*tting and trade him.

— PureUncutLakers (@PureUncutLakers) June 24, 2022
I know this'll sound hilarious but I remember a specific game last year agains the Celtics where he was randomly doing GREAT on defense. Maybe Ham thinks he can make they a bit more regular lol

— Dutch Hofstetter (@mambadutch) June 24, 2022
But when he does all that y'all still ain't happy

— Rebuilding (@ShaiGoatStatus) June 24, 2022
ADVERTISEMENT
Article continues below this ad
Now people do show their sympathy and rather support for Russ because they realize that it is time for solutions and not blaming. Otherwise, it would be fair to say that Russ was many times the 'scapegoat' for the Lakers' situation.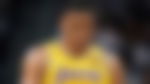 It may come as a surprise to fans, but it is not like Russ has never played a defensive game. It is true that he needs the ball and needs to carry it to show his best game. But it is not a bad idea to make him the guy on the team who would be the first defense of sorts. It's not something he is new to. Of course, in LeBron's absence, they would need Russ more, but assuming LeBron plays most games, this role can bring stability to the Lakers game.
ADVERTISEMENT
Article continues below this ad
WATCH THIS STORY: 5 games proving Russ West's criticism is not fair.
Another concern and a big one at that is obviously AD's fitness. He has proved his talent and there is no denying that he can play well. But over the course of the season, consistency is something that is non-negotiable. So Darvin Ham has work on his hands. The Lakers need to get it settled before the season starts and there's a lot of time for that. But they still need to settle in and prepare strong.