"That's Why I Respect Jared Dudley': Former NBA Champion Reveals His Admiration for Lakers' Veteran
Published 01/04/2021, 1:00 PM EST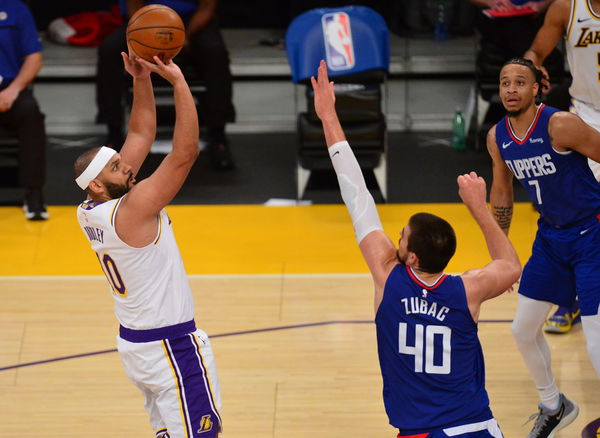 Jared Dudley won his first championship ring with the Los Angeles Lakers in 2020, 13 years after making his NBA debut. Over the years, the 35-year-old has majorly been overlooked for his contributions, but a 2-time NBA champion recently credited Dudley for his immense humility.
Dudley came into the league through the 2007 NBA Draft, the same class as Kevin Durant. But their careers have been contrastingly different, and it is because Jared Dudley has eased into a more supportive role at this stage of his career, while Durant is still enjoying his superstardom. 
Jared Dudley receives massive credit from one of his former opponents
ADVERTISEMENT
Article continues below this ad
It isn't an overstatement to say that Dudley doesn't get the credit he deserves. The versatile forward is way past his prime, but his off-court contributions matter a lot, and 2-time NBA champion and David West recently revealed how he admires players like that. 
"You get to a point in the NBA where you have to come off the bench. Some superstars never accepted that and their careers ended way sooner than they should've," West mentioned. 
West further added how a player might be pushed into the 3rd or 4th rotation during the latter stages of one's career, but still has to take in whatever comes in the way. "You've got to have a certain level of humility, to be able to accept those roles," he stated. 
"That's why I respect Jared Dudley a lot. Because Jared was a heck of a player in Boston College. He had some moments in the league, but he understood like his value was being a role guy.
"We weren't teammates, but I know the type of impact he has on locker rooms," expressed 40-year-old David West. 
Dudley's preference to stick into a more supporting role is quite evident from his recent numbers as well. The forward hasn't enjoyed starting rights for quite a few years now, and he only averaged 8.1 minutes a game during the 2019/20 season.
Dudley's experience is benefitting the Los Angeles Lakers
ADVERTISEMENT
Article continues below this ad
Dudley has played for several teams in the NBA and he joined the Los Angeles Lakers for the first time during the 2019 offseason. He's now in his 2nd year with the team, and the value he brings is unparalleled. 
Although he hardly plays, Dudley is still one of the most cheerful teammates to have on the bench. More importantly, he plays a huge part in breaking down game films and offering youngsters some valuable advice. 
ADVERTISEMENT
Article continues below this ad
That is the significant reason why the Lakers retained Dudley on yet another one-year contract during the 2020 offseason. Not because his numbers are extraordinary, but due to the fact that he is an extra form of motivation for the entire roster.