"The Award Will Have Lost All Meaning to Me": NBA World Goes Berserk at Latest Michael Jordan MVP Trophy News
Published 01/14/2023, 4:05 AM EST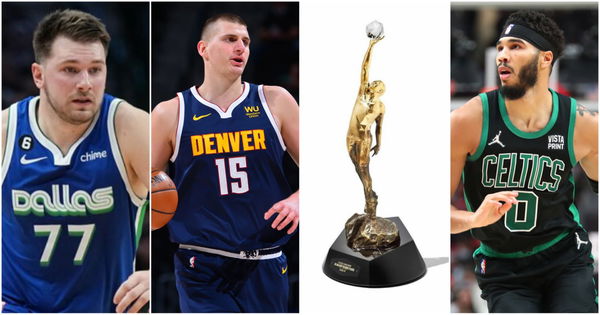 The updated list of the top candidates for The Michael Jordan Trophy has been released sparking a debate among NBA fans. The 2023 season will be a significant one as the season's MVP will be the first NBA star to receive the newly renamed trophy. Evidently, Dallas Mavericks' Luka Doncic, Denver Nuggets' Nikola Jokic, and Boston Celtics' Jayson Tatum are a few of the names that have been making the most rounds. However, the order of the newly updated list resulted in huge criticisms from fans. While many seemed to be on board with the list order, others were not so accepting.
In December 2022, the official website of the National Basketball Association unveiled six new trophies that were named after several NBA legends. One of them was The Michael Jordan Trophy meant for the season's MVP. The trophy was named in honor of the 5x NBA MVP and represented His Airness' journey to winning the title.
NBA fans argue over the updated ladder for the Michael Jordan Trophy
ADVERTISEMENT
Article continues below this ad
The Denver Nuggets are currently leading the Western Conference. Evidently, it might be safe to say that the majority of the credit belongs to NBA superstar Nikola Jokic who happens to be a top MVP prospect this season. The Serbian professional basketball player is currently averaging 24.9 points, 11 rebounds, and 9.7 assists. If Jokic wins this season's MVP award then he will be the fourth player, after Bill Russell, Wilt Chamberlain, and Larry Bird, in the league's history to win three consecutive titles.
https://t.co/wWGNmWnCY9's updated MVP Ladder:

1. Nikola Jokic
2. Luka Doncic
3. Jayson Tatum
4. Giannis Antetokounmpo
5. Joel Embiid
6. Kevin Durant
7. Ja Morant
8. Donovan Mitchell
9. Jaylen Brown
10. Shai Gilgeous-Alexander

— NBACentral (@TheNBACentral) January 13, 2023
Jokic's Nuggets have won 28 games out of 41 played so far. During his first MVP season, the 4x NBA All-Star helped his team finish third in the Western Conference by 47-25. Whereas, in the following season, the Nuggets finished 48-34.
The updated MVP ladder gave way to an intense discussion among the Twitterati with many expressing their displeasure with the order of the list. According to the tweets, many believed that NBA superstars such as Luka Doncic and Jayson Tatum deserved the top spot. Below are a few of the comments.
if Jokic goes for a third mvp in a row the award will have lost all meaning to me

— Cody Wyatt (@insidercory) January 13, 2023
Jokic being at the top is absolutely ridiculous. Luka is 34 9 9. What the fuck is Jokic doing that's so special at 24 11 9 😂 don't say it's because he's in first. Embiid had that last year while Jokic was in 6th.

— Eddo (@EdwardVotel) January 13, 2023
jokic getting 3 mvps in a row would be bad for basketball

— danzbruh (@bruhdanz2) January 13, 2023
Anyone else think it's weird how the criteria has changed since last year for Jokic to win? Last 2 years it was because he carried and had historic stats and now this year it's because his team is on top?

— LeHouston🚀 (@H_Town_Merchant) January 13, 2023
Luka still isn't first. That means this is a bad list

— Amit Wisniewski (@AmitWisniewski) January 13, 2023
Bro ain't no way joker gets mvp again lol shits meaningless at this point

— Dec (@DirtyDec_) January 13, 2023
Jokic being infront of luka is crazy

— Rockets never broke again🚀 (@NBAWaljuwon2) January 13, 2023
Jokic winning 3 in a row when both Bron and Giannis didn't because they didn't have rings, but Jokic hasn't even played in the finals 🤦‍♂️

— PhillyD (@PhillyD207) January 13, 2023
Serious q, how is jokic ahead of luka? Is it the stats? Team wins?

— menggoy (@mengoy2020) January 13, 2023
ADVERTISEMENT
Article continues below this ad
This Jokic agenda is so forced he's not and has never been a top 3 player in the league no amount of handed out mvps will change that

— ASN (@ASNx305) January 13, 2023
If the two-time MVP continues performing on this level, he could very well bag his third MVP trophy. Especially if the Denver Nuggets are able to hold their ground in the Western Conference.
ADVERTISEMENT
Article continues below this ad
WATCH THIS STORY: Luka Doncic joins LeBron James, Michael Jordan, and other NBA legends after another 50-point performance
Do you agree with the new MVP rankings? Let us know your thoughts in the comments section below!
Edited By: Jayant Chhabra