"The Big Shot Came Up Short": Michael Jordan Was Roasted on Live TV After Once Seeming to Struggle vs Magic Johnson
Published 11/24/2022, 5:10 AM EST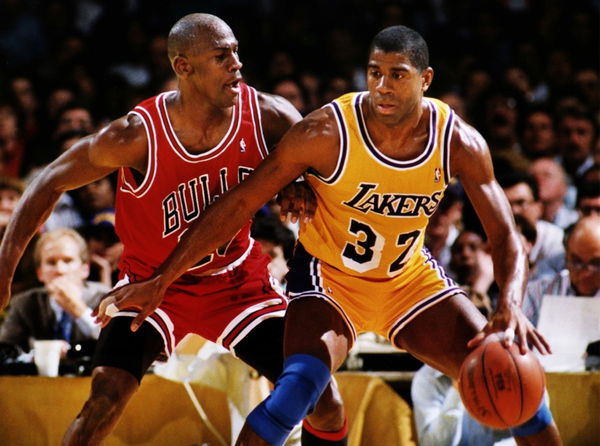 There are very few instances when someone managed to get the best of Michael Jordan. Though a majority of NBA fans know about his rivalry with Isiah Thomas. But there was a time when Jordan got roasted on live television while guarding the Los Angeles Lakers legend Magic Johnson. Notably, Johnson was considered a unicorn when he came into the NBA. A 6'9″ point guard, who had excellent court vision, Johnson could arguably score, defend, and rebound like the best in the league.
ADVERTISEMENT
Article continues below this ad
And then came Michael Jordan. A 6'6″ shooting guard, who was the team's best offensive and defensive player for the majority of his time with the Chicago Bulls. However, Jordan had a certain disadvantage on defense against a taller Magic Johnson.
ADVERTISEMENT
Article continues below this ad
The only time Michael Jordan was roasted on live TV?
And that seemed to be the case in the 1991 NBA Finals when the Chicago Bulls went up against the Los Angeles Lakers. Michael Jordan drew the assignment of defending Magic Johnson, as he was the best defender on the team.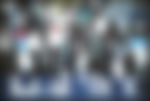 MJ was seemingly tired due to the amount of work he had to put on both sides of the floor. Scoring a bunch of points for the team and also defending Magic Johnson took a toll on him during their first game.
And the broadcasters did not hold back while talking about Jordan and his performance. They said, "Mark, no question, Michael Jordan was ready for game one, exploding for 15 points in the first quarter. But the problem we anticipated was how much work and energy would be used eventually surfaced."
"At the defensive end, the assignment of guarding Magic Johnson requires bumps, physicalness to slow him down, giving up inches and pounds. So much so that, during the third quarter, Michael asked for a break, and tried to regroup. In the fourth quarter, saddled with five personal fouls, thanks to the guarding of Magic Johnson, the big shot came up short."
ADVERTISEMENT
Article continues below this ad
Jordan and the Bulls had the last laugh
Jordan relied on his athleticism and agility both on offense and defense. Whereas Johnson used his size to his advantage. Plus, the amount of attention Johnson drew from opposing teams on offense helped him in being such a good ball feeder.
Watch This Story – Michael Jordan's greatest duels with Isiah Thomas, Larry Bird, Magic Johnson, and others
ADVERTISEMENT
Article continues below this ad
The game ended with the Los Angeles Lakers barely scraping by the win, 93-91. The Bulls had the chance to tie the game, but Jordan ended up missing the last shot, or the "big shot" as the commentators referred to it.
But that was the only game that the Lakers won as the Chicago Bulls came back with a vengeance and won the next four games straight to win their first NBA championship.