The Evolution of LeBron James' Logo: History, Elements and More
Published 03/01/2021, 1:00 PM EST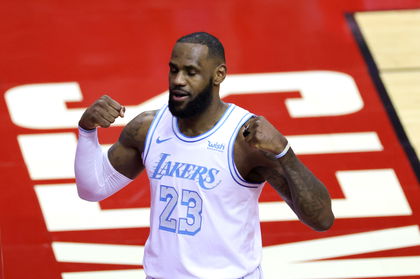 ---
---
If there is anybody who has dominated the basketball court quite like Michael Jordan, it is LeBron James. From putting up incredible numbers to adding unique a plethora of accolades and achievements to his name, King James has done it all and has a fan following that extends well beyond the game too.
ADVERTISEMENT
Article continues below this ad
Someone like LeBron James is not just a basketball player but an icon and is someone who has become a brand. Therefore, it is obvious that a man of his stature will also have a logo that defines his brand.
History of the LeBron James logo
ADVERTISEMENT
Article continues below this ad
James' first logo was made public in 2003 on shoes called the Air Zoom Generation. This was when he had signed a contract with Nike roll-out apparel and shoes that had his name and logo embedded. The original logo on these shoes comprised a small crown on the bottom left corner, and had his initials along with his jersey number '23' from his time with the Cleveland Cavaliers.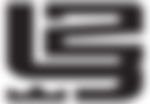 Not that the shoes weren't a big success, but the problem was that this complicated logo was difficult to interpret. This made Nike re-think, and they decided to change the logo to ensure it remained relevant no matter what. This change also had to do with Bron moving to the Miami Heat, so a fresh start was needed.
LeBron turned to Darrin Crescenzi in 2010 at Nike Brand Design. However, a lot of other renowned designers and studios were also evolved in bringing this change. To date, Bron uses the logo that Darrin came up with.
Elements that make the logo
Although the current logo is far simpler, it still has all the necessary elements needed to represent the superstar. Just like the previous logo, the new logo still makes use of the crown that indicates that James is and will remain the king of basketball.
The two halves of the logo below the crown are Bron's initials "L" and "J". The negative space in the logo is supposed to resemble the basketball court as well. Clearly, a lot of thought has gone into designing this.
In fact, this logo does not have a particular color scheme either. This gives Nike plenty of room to experiment and get creative with as and when required.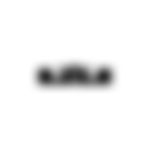 Is the logo popular?
ADVERTISEMENT
Article continues below this ad
Over the years, as Bron's career has only seen a rise, his brand has too. Bron is someone who doesn't even need a logo to attract viewers to his games. His on-the-court performances are enough to convince anybody that he is the GOAT. But the design also has played a big role in the brand's success over the years.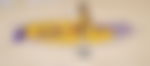 Bron needed a logo that in a nutshell screamed his personality, and this was it. Since then, his brand has only skyrocketed and will provide him with plenty of security when he retires.
ADVERTISEMENT
Article continues below this ad
Read also- Why Does LeBron James Wear #23 on His Lakers Jersey?