The Next Shaquille O'Neal? Insane Stat Puts Zion Williamson Right Next to the NBA Legend
Published 01/29/2021, 1:05 PM EST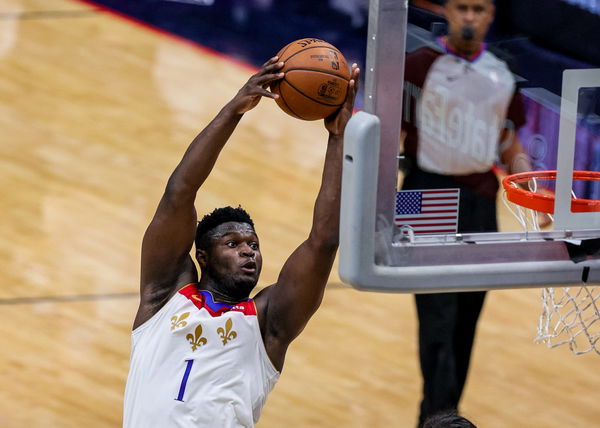 ---
---
Zion Williamson is a freak of nature, and he is only expected to get better in his NBA career. The Duke University alum took the league by storm as a rookie, but injuries didn't allow him to perform at an optimum level. But now, Williamson is already making heads turn with his dominance. 
ADVERTISEMENT
Article continues below this ad
Zion Williamson has imbibed Shaquille O'Neal's level of dominance this season
Zion Williamson weighs 282 pounds, and not many players can handle his force at the paint. One can't look at Zion's game and question him for his lack of three-point shooting, as he makes up for it at the rim! 
ADVERTISEMENT
Article continues below this ad
An injury-plagued rookie season left Zion unable to produce his dominance at a prolonged level, but now, it seems like the kid's up for a challenge. He's already making a mark with his dominance, as Zion is averaging nearly 24.0 points per game. 
What's more impressive is that the 20-year-old is getting 18.5 points in the paint and that speaks a lot about his dominance at the rim. Here's a comparison to offer a different perspective on how good Zion has been this season. 
Zion Williamson is averaging 18.5 points in the paint per game this season.

Over the last 25 seasons, the only player to average more in a season is Shaquille O'Neal (7 times). pic.twitter.com/hRhFrEH8HM

— ESPN Stats & Info (@ESPNStatsInfo) January 29, 2021
Coming in close behind Shaquille O'Neal in an NBA metric is impressive. We all know how Shaq dominated the game, and Zion Williamson has the talent to bring in a similar type of force, if not equal to how Shaq did it! 
The 2020-21 season regular-season hasn't ended, but per the current statistics, Zion Williamson is 65.2% successful when he attempts a shot at the rim. 
Can Zion help the Pelicans reach the postseason?
Zion Williamson has the hopes of several fans resting on his shoulders. He is expected to carry the New Orleans Pelicans to the playoffs this season, but things aren't happening for the team at the moment. 
They're 14th in the West and have won only six games, which is far lower when compared to the fixtures they've lost. Williamson as an individual has been outstanding and has earned massive acclaim from his teammates, but the job isn't done yet. 
ADVERTISEMENT
Article continues below this ad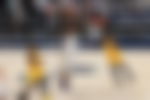 The Pelicans tend to succumb under pressure, and their inexperienced starting lineup is the cause. The team needs to get back on track with their victories, and Zion is the key that can unlock the team's path to success. 
His resilience and capacity to perform at crunch moments should be more evident as the season progresses. The Pelicans are a team filled with exciting players, and if they gel together as a unit, they can create wonders. Zion Williamson should take the responsibility on his shoulders and make his teammates perform to fulfill the playoff goal. 
ADVERTISEMENT
Article continues below this ad
Also Read | Duncan Robinson Recalls the Time When He Thought He Was Close to Being Dropped From Miami Heat