The Student and The Master – How Phil Jackson Moulded Michael Jordan, The Leader
Published 08/11/2021, 3:30 PM EDT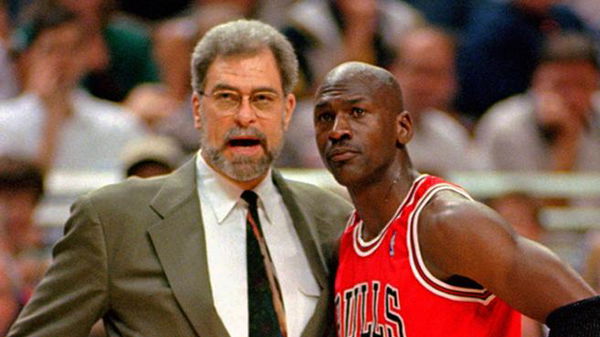 ---
---
The 90s Chicago Bulls, arguably the greatest team of all time, are still popular 20 years later! Why? Because they left behind a legacy that continues to inspire millions today! And while the Michael Jordan was the driving force behind that Bulls team that scripted a piece of history in revolutionizing basketball, he couldn't have possibly done it without his number 2 in Scottie Pippen, and Hall of Fame coach Phil Jackson.
ADVERTISEMENT
Article continues below this ad
In fact, MJ and Phil din't get off to the best start when Jackson took over as head coach in 1989. However, a rather frosty relationship gradually changed course as Jordan bought in into Phil's unique system oriented basketball.
ADVERTISEMENT
Article continues below this ad
With an unbreakable 'Triangle' offense and a force of nature in Michael Jordan, the Jackson led Bulls would 3-peat not once, but twice in just 8 seasons! Having seen the power of Phil's approach, MJ bought into the Zen Master's leadership philosophy as he kicked off his 2nd stint in Chicago, a return season after playing baseball.
Michael Jordan – A driven leader
In a recent interview with ABC, Jordan, addressing a question about changing his leadership style with Luc Longley amongst other fresh faces with the Bulls, spoke about taking a page straight from the Phil Jackson playbook.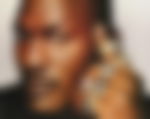 Jordan deliberated over his transition as a leader saying – "I understood how relationships were going to be established."
His adoption of the Jackson model brought him to realize – "And, you know, a hug is probably more than a yell, a pat on the back is probably more than a punch. And, once I was able to understand that, as a leader, then we could always have a certain dialogue. Mate, you know I can go back and forth with you. But also, I know how to get you to this point that we need you to be consistent."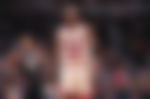 Jordan then paid homage to Phil Jackson's idology saying – "Phil was good at it. I learned it from Phil. Phil understood that with Dennis. He understood that with me, understood that with Scotty, Tony, and Steve. All of that was a strong point about who Phil Jackson was. I had to learn that through him.
His Airness also recognized Jackson's role in his transition back toward being the focal point of the Bulls championship aspirations. MJ said – "then when I got back, I had different personalities that I hadn't been with. So I had to learn to understand who these people were so that I could have a relationship with them."
Graduating from the Phil Jackson school of success
ADVERTISEMENT
Article continues below this ad
Safe to say, where ever Phil's gone, championships and dynastic success has followed. With a record of 11 championships in his seasons with the Chicago Bulls and the Lakers, Jackson arguably ran the 2 greatest dynasties of all time!
While MJ was always by far the best player on the court, it took a coach like Phil to reign his superstar in towards a culture Jordan himself by the end of it all, would swear by. Jackson had a knack of managing a variety of eccentric and dominant personalities on the teams he coached.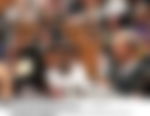 Whether it be of the likes of Dennis Rodman or Scottie Pippen, or even a young Kobe Bryant or a prime Shaquille O'Neal, he was truly a natural. With a record of 229 wins off 333 playoff games played, is there any doubt over whether Phil Jackson being the greatest coach of all time?
ADVERTISEMENT
Article continues below this ad
WATCH THIS STORY- Moments when LeBron James legacy was on the line but he fought back