'There's No Way To Guard Him': Blazers' Teammate Labels Damian Lillard as Unbeatable
Published 02/17/2021, 10:30 AM EST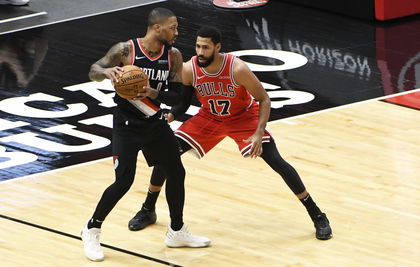 ---
---
Despite having two integral cogs- CJ McCollum and Jusuf Nurkic- missing for a month, the Portland Trail Blazers are proving to be a threat in the West. They just defeated Oklahoma City Thunder and are extending their game-winning streak to five. Their 115-104 win came after Damian Lillard, once again, put up incredible numbers on the scoreboard.
ADVERTISEMENT
Article continues below this ad
In fact, it is his ability to take over the game during clutch moments that makes him the outstanding player he is. After their victory against OKC, his teammate Enes Kanter himself was speechless when he had to talk about Lillard.
Damian Lillard seems unstoppable
ADVERTISEMENT
Article continues below this ad
To be fair, the Oklahoma City Thunder are missing their lead scorer, Shai Gilgeous-Alexander, from the lineup, because of a sprained left lee. However, the defeat might have been less humiliating, but doesn't look like the result would have been any different in his presence.
Lillard had 31 points, 10 assists, and 7 rebounds in this game. Also, 12 of his total points came in the final four minutes of the game. This was crucial in helping Portland win this matchup. In the second quarter, they ended up giving up a 24 point lead, which they later recovered from.
Looking at Dame's form, Enes Kanter couldn't help but sing high praises for his teammate. In a post-game interview, he stated, "He's like a cheat code, I've never seen anything like this before. And I have played with some great players, but I've never seen anything like this before. It's wild.
"I got no words. I just put my hands on my head and I am like, 'There's no way to guard him.' That's not a bad shot, by the way, that's a good shot. It's a bad shot for everyone else."
A shot at the title for Portland Trail Blazers?
While the Blazers had to fight tooth and nail for a playoff spot last season, it seems like Lillard will not let it come to that this time. At the fourth position in the West, they are adding more and more W's to their tally.
ADVERTISEMENT
Article continues below this ad
However, it is too soon to say whether they can be considered title contenders. The playoffs are a different setting than the regular season, and with how competitive the West is so far, it won't be easy for Lillard to carry them forward alone, without Jusuf and McCollum.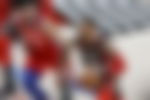 It will take several big nights from Dame to maintain their form. However, we are talking about Lillard here, and with him, anything is possible.
ADVERTISEMENT
Article continues below this ad
Read also- Stephen A. Smith Goes on The Record And Apologizes For Not Appreciating Damian Lillard Enough