'These Young Teams are Dangerous': Former NBA Champion Warns LeBron James Led Lakers
Published 05/25/2021, 7:00 AM EDT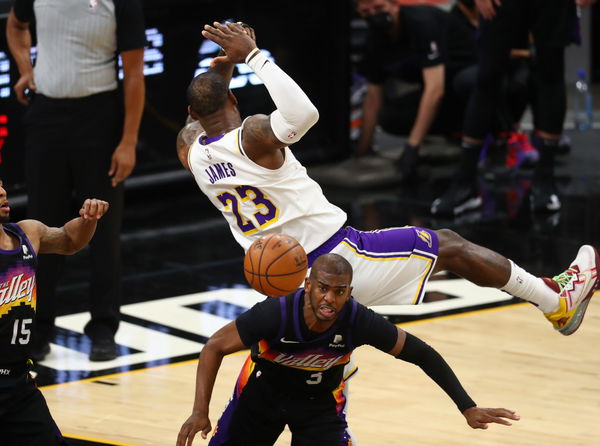 ---
---
The Suns, after their comfortable win over the Lakers in Game 1, have unsettled the LA fans to some extent. The Chris Paul led unit has proved that this opening series is going to test whether the defending champions are capable. Hereon, there's an uncertainty revolving over the Laker Show because they would not want to go 0-2 down in their bid to reclaim the glory.
ADVERTISEMENT
Article continues below this ad
Now, there are various areas of concern for Frank Vogel's men and the biggest of those is the performance from their star duo. They're certainly not in a form that can instill fear amongst their opponents. So what can one expect from them in the upcoming matches?
LeBron James and the ambiguity surrounding him
ADVERTISEMENT
Article continues below this ad
In a recent interview, NBA analyst Kendrick Perkins funnily asked the Lakers fans to sit in 16 degrees air conditioning and wait for their comeback. Meanwhile, former NBA Champion Matt Barnes pointed out something that was rather soothing for those same fans.
The 41-YO retired player explained how a struggling LeBron James could still win the play-in for his team. He noted, "It's crazy to call an off-night with a triple-double and a game-winning shot in off night. But we know he didn't play very well against the Warriors." 
Barnes then discussed how LeBron is yet to recover from his ankle sprain and how he's attempting fewer shots. This was to point towards the fact that the playmaker in Bron would need the scorer in Anthony Davis while the remaining players keep the defenders distracted.
Matt said, "This game, takes only 13 shots, he gets banged up a little bit. So LeBron is gonna play his way back into the rhythm and health. This is going to be a good series because I don't think he's there yet. It's gonna take AD to carry the load until LeBron is as good as he can be, before LeBron's back to normal. But that's the one thing I've probably noticed this last weekend and a half is… LeBron is not healthy yet. We can all tell that but this team is good enough to allow him to play his way back into the shape…"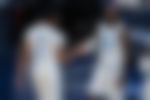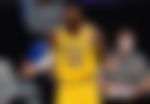 Are the Lakers failing to intimidate the Suns?
ADVERTISEMENT
Article continues below this ad
The Phoenix side is brimming with confidence and they have every right to be so. Fortunately for them, they've been one of the very few teams which functioned with a healthy roster throughout the regular season. They are a fairly young team with starters DeAndre Ayton and Mikal Bridges playing their third season while Cameron Johnson is playing his second. To balance that out, they have a beast in Jae Crowder and a leader in CP3. 
Noting this, Matt Barnes warned the Lakers and exclaimed, "I got a chance to talk to CP last night, it was a stinger so hopefully he'll be back to full health by next game. These young teams are dangerous because they don't know that they're supposed to worry about the Lakers. They're definitely not afraid, they came out and did what they're supposed to do… and it was to protect the home court."
ADVERTISEMENT
Article continues below this ad
It's not too bad to lose an away game in a playoff especially when it's just the first game, so the series still has a lot of life in it. Do you see the Lakers winning the next four games in a row?