"They Don't Want the Future Generations to Know": NBA World Goes Rogue Over Major Shaquille O'Neal and Kobe Bryant News
Published 11/22/2022, 11:55 PM EST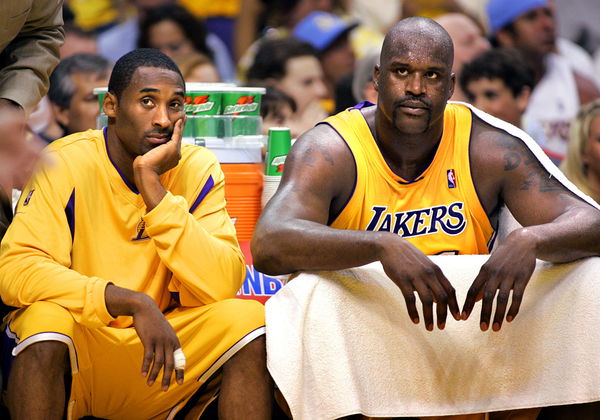 Shaq's life is arguably like a movie script, with surprising twists and turns. However, Shaquille O'Neal will soon be seen in the leading role of his career-spanning docuseries 'Shaq'. And if the NBA world had to pick one person with whom he had a very strong yet dramatic relationship, it would be Kobe Bryant. And his role in the film would be a visual treat for the fans to witness. From teammates, rivals, and then to best friends. However, the Bryant family has reportedly requested that Kobe's role in the film be reduced, and this news is driving NBA fans bonkers on Twitter.
Shaq was almost unstoppable during his prime, winning three consecutive rings with the Los Angeles Lakers from 2000 to 2003. Standing by him was none other than Kobe Bryant. And the world assumes that Kobe Bryant will play yet another large role in the film. But the Bryant family has requested the creators to reduce the amount of Kobe's screentime.
ADVERTISEMENT
Article continues below this ad
The LakersDaily.com covered an interview with Robert Alexander, the director of the film. Alexander said that they will definitely look at the Bryant family's request. And it didn't take long for this news to go viral on Twitter. As one of the fans said, "They don't want the future generations to know that Shaq carried Kobe." 
Here are some of the reactions from NBA Twitter:
That's too much. They went hand in hand. I know you gonna let this man talk about him im his film

— Sheila Bargrizan (@DutchessLA) November 23, 2022
This is getting outrageous Kobe was a public figure loved by billions Those billions of fans deserve To see Kobe in the doc

— NeDSep1➡ (@seviour_nick) November 23, 2022
L and W at the same time, L cuz we wanna see more Kobe but W cuz it's understandable

— DeeboWrld (parody account) (@DeeboWrld_Burna) November 22, 2022
So he can't talk about the person his name is most associated with?

— Dominique Clare (@DomClare) November 22, 2022
They don't want the future generations to know that Shaq carried kobe 😭😭

— Kyrie (@CarriedLeBron) November 22, 2022
"But to be transparent, we also got to a point where we had a certain amount of their story in the film," Alexander said. "Kobe's family essentially requested that we reduce the amount of Kobe we have in the film." 
Shaquille O'Neal on Kobe Bryant's death
26th January 2020, left a big hole in the entire NBA world's hearts as they lost the 'Black Mamba'. One of the most affected by his death was Shaquille O'Neal. Shaq got a flood of calls saying Kobe is no more. Firstly Shaq thought that it is some sick joke until he saw the news.
Shaq said, "I haven't felt a pain that sharp in a while." He added, "I lost a little brother." 
ADVERTISEMENT
Article continues below this ad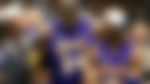 The one thing that Shaq said he regrets is not keeping in more regular contact with his former Los Angeles Lakers teammate Kobe Bryant. Shaq said "I'll never get to see Kobe again, in real life, forever. And I just should have called. He should have called. We both should have called. But he's working, I'm working, so it's, 'I'll see you when I see you.'" 
WATCH THIS STORY: Here's how Ben Simmons, LeBron James, Shaquille O'Neal, and other NBA stars spent their first paychecks 
ADVERTISEMENT
Article continues below this ad
The NBA world will get to know more about their unique bond in the upcoming film.
Are you excited about the new series? Let us know in the comments below.