This Damian Lillard Statistic Will Prove Why He's the Undisputed King of Clutch Time
Published 02/26/2021, 5:30 PM EST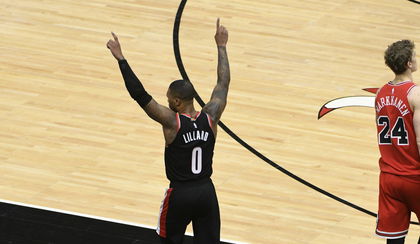 ---
---
LeBron James calling Damian Lillard one of the most disrespected players in the league is no understatement. Lillard has been proving his worth at the biggest stage for quite some time now and here is a statistic that should tell you how good he's been during 'clutch moments.' 
ADVERTISEMENT
Article continues below this ad
Before we dive into it, the general definition for 'clutch time' is when a game heads towards the final 5 minutes with the teams not being separated by more than 5 points.
That's when the great players step up and deliver. Talking about greatness, here's a stat that truly depicts how good Lillard has been in 'Dame Time.' 
ADVERTISEMENT
Article continues below this ad
Damian Lillard has made clutch time his own since joining the NBA
Damian Lillard is the best clutch player in the league. It is not a statement made out of haste or without proper knowledge. The Portland Trail Blazers point guard has been consistent with his spectacular displays during dying minutes of a game, which has now unofficially been renamed as 'Dame Time.'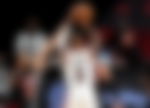 On February 18th, it was revealed that Damian Lillard had scored 82 points in clutch time with an impressive 63% FG accuracy in the ongoing 2020-21 NBA season. It was a stat that put him at par with two legends of the game. 
What's more astounding is that no other player has managed to live up to Lillard's standard since his NBA debut in 2012. Here is a piece of mind-blowing information that suggests how good the point guard has been. 
To make a shot that helps a team gain the lead or go even in the final 20 seconds of the game is truly remarkable. Lillard has made 28 of them so far, and it is a superlative achievement indeed. 
Since entering the league in 2012-13, Damian Lillard has made 28 game-tying or go-ahead shots inside the final 20 seconds of the game (including the playoffs).

That is the most in the NBA over that span. pic.twitter.com/1fPDyPEIMJ

— ESPN Stats & Info (@ESPNStatsInfo) February 26, 2021
What's Lillard's second love besides his profession?
Every NBA star you ask would name their profession as the love of their lives. It is true because they can't excel at the sport if they don't truly love what they're doing. That is the same case with Lillard, but the Blazers guard also has a passion for another sport! 
He calls basketball his lifetime investment and doesn't consider it a sport. It has become a part of his life, a first and true love. However, what about the second priority when it comes to the sports? 
"My favorite sport to watch – I love boxing. I'm on the court every day, all season, but I don't even trip off that. I'm like 'man I need that boxing video… of my boxing training'.
"It ain't like to show off or to try to look like I'm doing something, it's just like I learned a sport, I learned the sweet science," Lillard recently mentioned. 
ADVERTISEMENT
Article continues below this ad
It was a surprising revelation indeed, but athletes like Lillard are hardly narrow-minded and find an affection towards every sport they watch. 
ADVERTISEMENT
Article continues below this ad