'This Idiot's Opinion': Brooklyn Nets' Kevin Durant Slams Charles Barkley for His Controversial Comment
Published 01/22/2021, 10:53 PM EST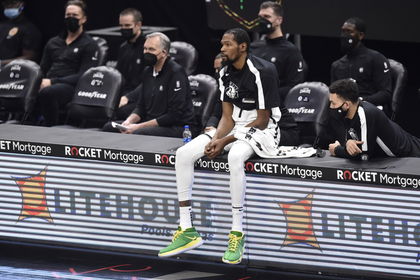 ---
---
Brooklyn Nets' Kevin Durant and the NBA on TNT crew have never been on particularly good terms. But this time around, KD pushed himself into a controversy by reacting impulsively to a Charles Barkley comment. There is no response from the latter as of now.
ADVERTISEMENT
Article continues below this ad
The NBA players are not the open books one wants them to be. They've got to put on the game face, care about PR, and work at the advice of their managing firm or agent. Still, they sometimes give candid reactions and catch attention. That's what happened with KD recently.
Brooklyn Nets' Kevin Durant insulted Charles Barkley?
ADVERTISEMENT
Article continues below this ad
A former teammate of KD, Etan Thomas, posted some tweets that enraged him. Etan quoted Charles' comment, "as much taxes as these players pay, they 'deserve some preferential treatment' [for COVID-19 vaccine]". The NBA Hall of Famer had added, "three hundred million shots, give a thousand to some NBA players, hockey players." 
This did not go well with KD, who read it on Twitter and responded, "I don't know why they still ask for this idiots opinion." 
Even the show's panelist, Kenny Smith, spoke in opposition to the statement made by Charles. He threw light towards the kind of heavy money that the NBA/NFL players make, but nothing could deter the Pistons legend from his stand.
The nasty feud that is ever-growing
Exactly a month ago, Kevin Durant made his much-awaited comeback. He played against the Warriors in that opener and scored 22 points in 25 minutes. In the post-game interview, Inside the NBA crew connected with him to ask some questions. 
That's when the 11-time NBA All-star Charles Barkley asked him, "There was talk about you coming back for the playoffs last year. So, you've really just been working on your game trying to get back your timing and conditioning, really to be honest, correct?"
To this, a totally disinterested KD did not even look at the camera, and replied, "Yeah." It was as if the interview was forceful and that he did not want to entertain Charles no matter what. 
ADVERTISEMENT
Article continues below this ad
In the past, the NBA analyst had also called KD a "bus driver" for joining teams that are stacked with All-stars. Arguably, that is why KD is never keen on respecting this former NBA player.
Do you think KD's stance against Charles is justified? Help us know your opinion in the comments.
ADVERTISEMENT
Article continues below this ad
Read Also – From LeBron James to Kevin Durant: Lakers' Legend Magic Johnson Reveals His Favorites For MVP