"This Is Embarassing": Mayhem Breaks Loose on NBA Twitter as 36ERS Defeat Devin Booker and Chris Paul's $2.5 Billion Suns
Published 10/03/2022, 6:15 AM EDT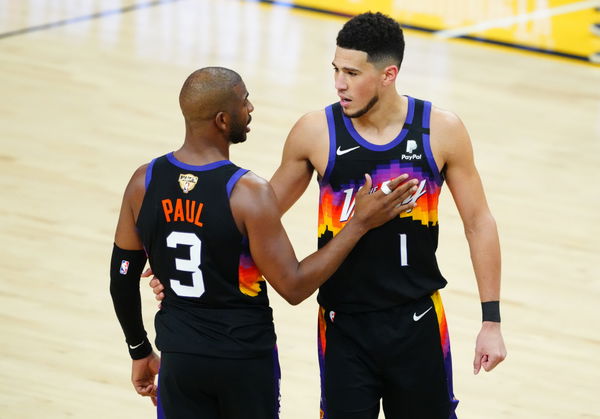 The Phoenix Suns have arguably been on the upward trajectory since the addition of Chris Paul. The Suns have had young players in DeAndre Ayton and Devin Booker, who have developed into stars over the years. Phoenix made it to the NBA Finals in 2021 but eventually fell short to the Milwaukee Bucks. 
ADVERTISEMENT
Article continues below this ad
Chris Paul seems to have been a perfect addition to the team, like a missing piece in a jigsaw puzzle. And Devin Booker seemingly just keeps getting better and better as time passes. 
ADVERTISEMENT
Article continues below this ad
Phoenix Suns lose to an Australian team
However, the NBA world was taken by storm when the Suns were defeated by the Adelaide 36ers. The Adelaide 36ers are an Australian team from the National Basketball League (NBL). The 36ers ended up defeating the NBA franchise in a pre-season game 134-124 and fans are absolutely losing it over the internet.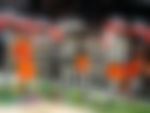 For an Australian team to defeat the NBA Western Conference champions is sure to catch anyone by surprise. Despite having two All-Stars on the team, the Suns ended up losing to the 36ers. Devin Booker ended the game with 13 points and Chris Paul, despite having 12 assists, only ended up recording 6 points for the game.
The Phoenix Suns have a net worth of around $2.5 billion whereas the Adelaide 36ers team's net worth is a mere $4.29 million in comparison. The Adelaide 36ers are a pretty small market team when compared to the Phoenix Suns. And for the Suns to lose meant that fans ended up reacting to this, even calling it "embarrassing". 
Here are some of the reactions from NBA Twitter:
Even some NBA players went to Twitter to react to the recent loss faced by the Phoenix Suns.
36ers are absolutely on fire whaaaaat

— Jamal Murray (@BeMore27) October 3, 2022
ADVERTISEMENT
Article continues below this ad
The Phoenix Suns ended up getting lit up from beyond the arc by the Australian side. The 36ers ended the game making 24 three-pointers as a team as compared to the Suns 9-34 shooting from beyond the arc. 
The numbers are not in favor of the Suns
Every time the Suns came within striking range, the 36ers pulled away by draining threes from all around the floor. Notably, two players of the 36ers team had a 30-plus-point game. And for the Phoenix Suns, their highest scorer for the game was Cameron Payne who finished the game with 23 points. Both Chris Paul and Devin Booker had awfully low-scoring games which are arguably highly unlikely for them, considering their past performances. 
ADVERTISEMENT
Article continues below this ad
Watch This Story – Caitlyn Jenner roasts Devin Booker
Fans will be hoping the Phoenix Suns' recent result was just a minor bump in the road ahead of the new season.