"This Team Would Have Won a 3peat": Magic Johnson's Plan of Acquiring 5x NBA All-Star to Team Up With LeBron James for Lakers in 2019 Leaves Fans in a Frenzy
Published 01/06/2023, 12:43 AM EST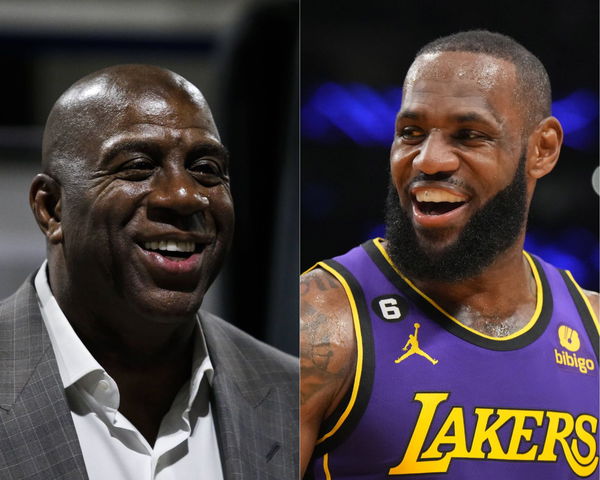 One could say that LeBron James has become the face of the Los Angeles Lakers during his stint with the purple and gold. The 2020 NBA championship stands tall as proof of it. However, Lakers legend Magic Johnson's plan could have had a multi-fold impact on the current Lakers team. In a recent interview, Johnson revealed his initial plans to trade a Los Angeles Clippers star to team up with James. Reacting to that, NBA fans couldn't keep calm, as they flooded their reactions on Twitter.
LeBron James entered free agency after his successful stint with the Cleveland Cavaliers in 2018. That's when the Lakers nabbed the opportunity to sign a deal with the 18-time All-Star and James in turn helped end the Lakers' championship draught in 2020.
Magic's plan to team up LeBron James with a Clippers star
ADVERTISEMENT
Article continues below this ad
During an interview for 'All the Smoke', Magic Johnson revealed his master plan during his stint as the President of Basketball Operations for the Lakers. When he discovered that James and Kawhi Leonard would be free agents, he decided to try and get them both in. He said, "I thought it was going to be Kawhi because he was the next free agent, the next year." Unfortunately, the Lakers couldn't close the deal on Leonard.
Moreover, Magic Johnson stepped down from the position in 2019. Eventually, Leonard Kawhi played a season for the Toronto Raptors until he moved to the Clippers.
However, the interview received a massive outburst from fans as NBA Twitter erupted. One user said, "This team would have won a 3peat."
Here are some of the reactions from NBA Twitter:
I was ready and willing to forgive all da Lakers sins if dey landed Kawhi, but felt like he was playing da Lakers

— MyBoyZo (@RalphVtech) January 6, 2023
Dude, Magic. You would've been involved if you didn't resign as President 3 months beforehand.

— Will McLaren (@ILLWi117) January 6, 2023
Bro why are you bringing out this info now 😞

— ²³𝙻𝚎𝙱𝚛𝚘𝚗𝚌𝚑𝚒𝚝𝚒𝚜🏀☄️🌎💞 (@BronGotGame) January 6, 2023
Should've kidnapped him 💯

— 🦁 ✝️ 👑 OG Bron fan (@LeBron38390) January 6, 2023
ADVERTISEMENT
Article continues below this ad
Meanwhile, the current season hasn't been a joy ride for the Clippers star as he has missed a considerable amount of games due to his injury so far. Despite his absence in the initial stages of the tournament, the Clippers have managed to take sixth place on the Western Conference table with a 21-19 record. On the contrary, the Lakers are down in 12th place with a 17-21 record so far.
ADVERTISEMENT
Article continues below this ad
Watch This Story – Despite Long Injury, Stephen Curry Is Eclipsing LeBron James, Giannis Antetokounmpo and Luka Doncic
How many championships do you think the Lakers could have won had Kawli Leonard joined the team? Let us know your thoughts in the comments below.