'Thought I Would Get Dunked on': Giannis Antetokounmpo Reacts to His Sensational Block on DeAndre Ayton in NBA Finals Game 4 vs Suns
Published 07/15/2021, 6:30 AM EDT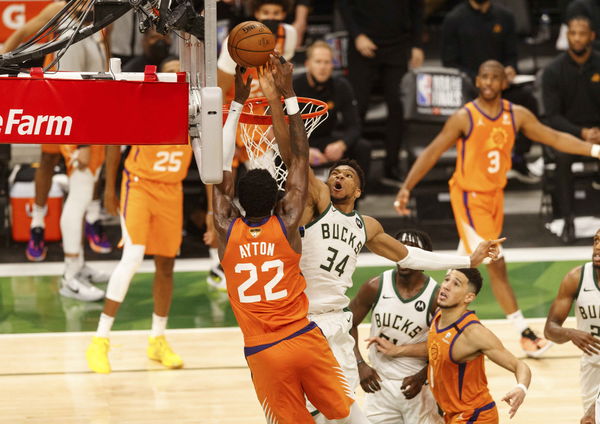 ---
---
Game 4 of the NBA Finals was hands down, the best of the series so far. The Milwaukee Bucks made a big comeback in the fourth quarter to seal their victory and even out the series at 2 each. Even though the Phoenix Suns were leading for most part of the game, the Bucks pulled off an incredible upset. So, if anyone could pinpoint where the course of the match changed, it has to be the sensational block by Giannis Antetokounmpo on DeAndre Ayton.
ADVERTISEMENT
Article continues below this ad
Giannis Antetokounmpo breaks it down
Although Giannis Antetokounmpo started off slow, he finished the night with 26 points, 14 rebounds, 8 assists, 3 steals, and 2 blocks. Khris Middleton may have led the way in scoring by adding 42 points to the scoreboard, which helped the Bucks get the critical win. However, the credit for putting Milwaukee in the position of power and propelling them to victory goes to Giannis' block.
ADVERTISEMENT
Article continues below this ad
DeAndre Ayton and Devin Booker were heading to their usual pick-and-roll. While Booker passed the ball to Ayton for a possible lob but Giannis' channeled his inner DPOY and stretched his left arm out to block it successfully. Fans and even NBA players couldn't stop raving about it. So, in the post-game interview, the Greek Freak was asked to walk everyone through the block.
"Just hustle play," Giannis started off. "I thought I would get dunked on, to be honest. But just going down the stretch, do whatever it takes to win the game. I saw the play coming. I just jumped vertically towards the rim, hoping I could be there in time. So, I was there in time and was able to get a good block, go down, and get two points. It was a great hustle play."
WATCH THIS STORY: Michael Jordan, Kevin Durant & Other NBA Players That Forced The League to Change Rules
Milwaukee Bucks closer to remaking history
ADVERTISEMENT
Article continues below this ad
The timing of the block was even more impressive than itself. Undoubtedly, this can go down in the list of best blocks the league has ever seen, especially with what's at stake. Nobody can get enough of this block, right?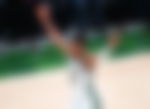 However, the worst is yet to come. The series is incomplete until a team gets a win down the road and this one is yet to happen. Phoenix will be hosting Game 5 and the Milwaukee Bucks have lost both games there. Will they be able to carry this momentum onto the next game? Or will the two teams take this to a gripping Game 7?
ADVERTISEMENT
Article continues below this ad