Three Stars Get Thrown Out of NBA Game After Punching, Pushing and Kissing the Canvas in Violent Brawl at Detroit vs Magic
Published 12/28/2022, 10:34 PM EST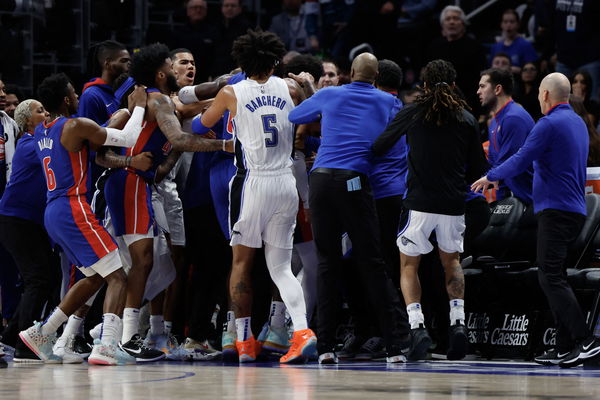 In their latest matchup, the Detroit Pistons hosted the Orlando Magic on their home turf. The last seed in the Eastern Conference, the Pistons had a sizeable 19-point lead going into the half. With about 35 seconds left to play in the second quarter, a massive brawl broke out near the Pistons' bench, caused by a Magic player. Tempers flared which automatically resulted in three players getting ejected from the game. 
As the Magic were trying to claw their way back into the game, an outlet pass by Magic rookie Caleb Houstan led to a turnover.
ADVERTISEMENT
Article continues below this ad
Brawl erupts near Detroit Pistons bench
As Magic center Moritz Wagner chased the ball to recover it, Pistons' point guard Killian Hayes was right behind him chasing the ball down the court. As Wagner could not reach the ball in time, he seemingly shoved Hayes right into the Pistons' bench.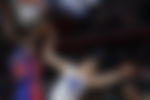 That is when tempers flared and a brawl broke out. The Pistons coaching staff tried to do the smart move of holding a furious Killian Hayes back in order to avoid a fight breaking out. However, they were unable to do so. 
Hayes broke free and charged at Wagner, who a Pistons player on the bench was holding. Before Hayes laid his hands on Wagner, Hamidou Diallo seemed to shove Wagner back into the crowd.
After Diallo shoved him, Hayes came from behind and landed his forearm right in the back of Wagner's head. The Magic bench cleared out almost immediately, running out to their teammate's aid.
Both team's coaching staff and officials present tried to separate the two teams in order to avoid an even bigger incident. In the end, the officials decided to eject the three main contributors to the altercation.
Pistons' Killian Hayes and Hamidou Diallo were immediately ejected from the game followed by Magic's Moritz Wagner. 
ADVERTISEMENT
Article continues below this ad
Not the first time Wagner got into it
Notably, this is not the first time Wagner has been in the middle of an altercation. Wagner and Milwaukee Bucks superstar Giannis Antetokounmpo had once gotten into it when Wagner played for the Washington Wizards. 
Watch This Story – 15 lb heavier Stephen Curry credits Ayesha Curry for the secret to not getting knocked around Warriors games
ADVERTISEMENT
Article continues below this ad
Antetokounmpo ended up head-butting him right in the face, which immediately led to his ejection from the game. 
What did you make of the incident? Let us know your thoughts in the comments below.