Three Times an Angry Michael Jordan Fought With His Chicago Bulls Teammates
Published 01/29/2021, 10:36 PM EST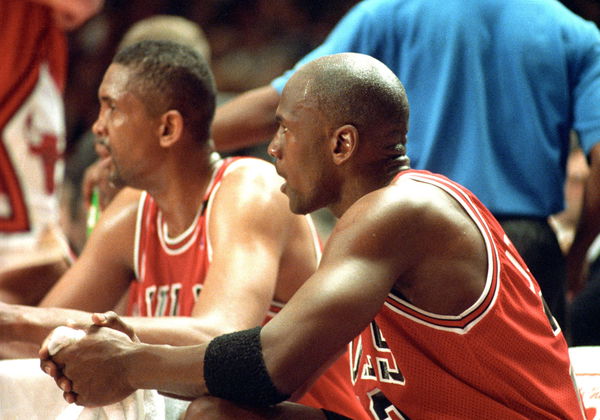 ---
---
Michael Jordan demanded outrageous input both from himself and his teammates. He never knew mediocrity and denied settling for anything but greatness. His individual accolades and team achievements reflected that mindset, but more often than not, they also presented him as the bad man of the NBA.
ADVERTISEMENT
Article continues below this ad
In The Last Dance documentary, Jordan's teammates, Scottie Pippen and Steve Kerr, revealed how MJ would yell and shout during practice. He was quite intimidating, and his star power was always like a bigger shadow that would make him appear like a bully. Let's take a look at three defining moments where things went a little out of hand.
#3 When Michael Jordan slapped Steve Kerr
ADVERTISEMENT
Article continues below this ad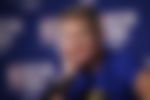 Steve Kerr joined the Chicago Bulls in 1993-94, the same season where MJ announced his retirement and joined the Birmingham Barons. When Jordan came back to the NBA in 1995, he re-assumed his leadership role and had to test the new man on the roster.
Hence, during a scrimmage game when they were playing on opposite teams, MJ started trash talking. It got to a point that the 30-YO Kerr lost his nerves and came back at MJ. This was enough to grill Air Jordan as he allegedly punched Kerr in the face and left him with a black eye. 
The future legendary coach, Kerr, also showed bravery and used his arms to push aside MJ as their teammates had to intervene. Later, the victim of MJ's testing protocols revealed that Jordan started respecting him and even apologized after the incident. The next thing the world knows, they won three championships together. All's well that ends well!
#2 When MJ almost destroyed the career of an NBA veteran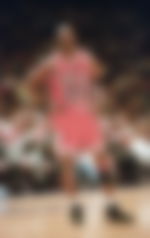 Back in 1992-93, Michael Jordan and the Bulls were chasing their first-ever three-peat, and it was obvious for them to be desperate. That's when they acquired an NBA veteran, Rodney McCray, from the Mavs.
They brought him as a ball-handler who could produce great defense and grab tough rebounds. However, things changed soon as McCray failed to prove his efficiency, and the GOAT would not have slackers in his squad.
In a practice game, MJ took matters in his own hands and said on Rodney's face, "You're a loser! You've been a loser. Rodney can hardly put up a jumper now."
That year, Rodney averaged a career-low 3.5 points and played half the minutes he generally played. It was as if MJ had drained his confidence, but he also got Rodney his one and only NBA ring. The 6'7" forward retired after the season at just 32 years of age.
#1 His Airness vs a Big Bull
Before getting to the point, watch this bonus video –
ADVERTISEMENT
Article continues below this ad
MJ was tough during those scrimmage games as he held the belief that one must bleed during the practice rather than in the war. But this time around, it was a 7-ft teammate, Will Perdue, against the legend.
During a practice game, Perdue was a little angry for some reason. He made a rough contact against Jordan and almost frustrated the team leader. Jordan warned him that a repetition of that move could turn things dark. That's exactly what happened!
Will Perdue knocked MJ down on the floor and in return, a fierce MJ threw punches back at his long-time teammate. This episode ended similar to Kerr's as the other players separated them.
ADVERTISEMENT
Article continues below this ad
Well, MJ remained the same even with the Wizards as he once told his teammate Richard Hamilton that he did not deserve to wear Nike Jordans. Such was the bar that MJ had set not just for himself but for those that surrounded him. While some shined under the rigours of this pressure, others perished. 
Read Also – Best Michael Jordan Quotes That Put a Dent in the Universe and Reflected His Winning Mindset