THROWBACK: Michael Jordan Had One Of The Worst Performances in 3-Point Contest History
Published 03/07/2021, 4:30 PM EST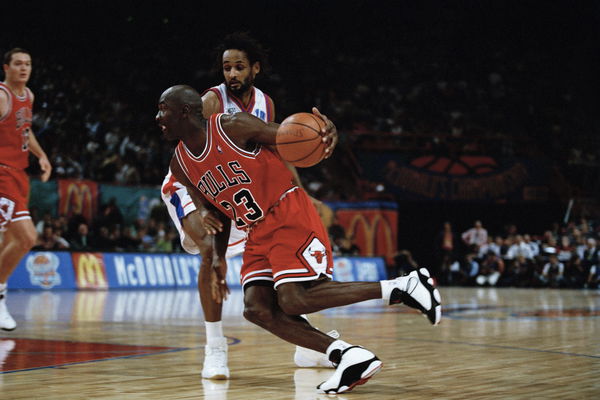 ---
---
Michael Jordan is one of the greatest basketball player of all time. In most people's books, he is the undisputed greatest player ever (sorry, LeBron James). The moments MJ has had in the NBA may never be surpassed, let alone matched. The 6-0 record rings the loudest to everyone. However, there are some bad MJ records that may never be surpassed either.
ADVERTISEMENT
Article continues below this ad
For everything that MJ proved he was as a player, a deft three-point shooter isn't what anyone would call him. Sure, he was shooting almost 40% in the 1989-90 NBA season. However, that didn't prove MJ's proficiency as a shooter. The uber-competitive MJ entered the 1989-90 three-point contest to put his skills to the test.
ADVERTISEMENT
Article continues below this ad
MJ went up against the likes of Larry Bird, Craig Hodges, Craig Ehlo, Reggie Miller, Bobby Hansen, Mark Price, and Jon Sunvold in the 1990 three-point contest. MJ did what he did best and made history. However, was it the kind of history MJ wanted to make?
Michael Jordan: What happened in 1990?
Michael Jordan was shooting his shots along with Craig Hodges, who was his teammate at the time. This was when they tried to save time by getting all the shooters done quickly. Nowadays, there is a smaller field of competitors. Jordan went up against Hodges, who ended up winning the competition at the end.
ADVERTISEMENT
Article continues below this ad It was uncharacteristic of Jordan to miss that many shots, as the commentators even pointed out. There was a look of disbelief on MJ's face after it was all over, as he had gotten just 5 out of 30 points. Jordan had won the Dunk Contest in years prior, so people were anyway surprised to see him this. But nobody expected a 5/30 performance.
Jordan's competitive spirit got the best of him and he looked out of place with those iconic shooters. However, what it proved was that there is nothing anyone can say to dissuade Jordan from competing. In an era where stars sit out big contests, this story could serve as an inspiration for players taking more risks in competitions like this.
ADVERTISEMENT
Article continues below this ad
Jordan's 5/30 is historically the worst performance in the contest ever, tied with Detlef Schrempf who got the same score in 1988. No player has matched it since, and it seems unlikely that any player ever will.