THROWBACK: When Rockets' Legend Hakeem Olajuwon Obliterated Michael Jordan
Published 05/03/2021, 3:32 PM EDT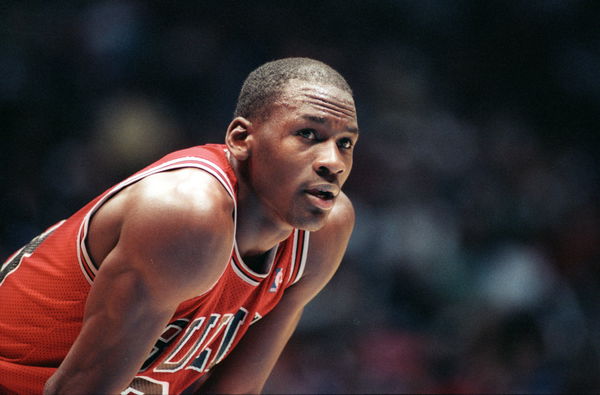 ---
---
Michael Jordan is arguably the greatest player to have ever played the game of basketball. In the 1984 Draft, the Chicago Bulls drafted MJ as the #3 pick. The two players who beat him for the top spot were two centers with contrasting careers, Hakeem Olajuwon and Sam Bowie.
ADVERTISEMENT
Article continues below this ad
While Bowie was a bust, Olajuwon became one of the greatest centers in the NBA. Drafted by the Houston Rockets, Hakeem slotted in directly as a starting center for the team and served as a formidable frontcourt alongside Ralph Sampson.
Olajuwon destroys Michael Jordan
ADVERTISEMENT
Article continues below this ad
While the Dream and his Airness did not meet each other in the NBA Finals, the two greats made for an amazing match-up in the regular season.
With the free-flowing scoring of MJ and the elite defending of Olajuwon, the Bulls and Rockets game was a must-watch.
In January 1987, both MJ and Hakeem played against each other. The Bulls, who were led by MJ, depended on His Airness' scoring and had a rather weak supporting cast who went head to head against the Twin Towers.
While on paper, MJ had a great game with 44 points, Olajuwon put the clamps on Jordan. The Dream stopped MJ with 4 blocks and put up 20 points and 15 rebounds along with it.
ADVERTISEMENT
Article continues below this ad
With Hakeem and the Bulls stopping on multiple occasions, Jordan couldn't lead the Bulls to a victory, who ultimately lost the game 107-96.
Even in the regular seasons, Olajuwon had an edge over Jordan as he won 13 games out of the 23 against each other. MJ also recognized how great Olajuwon really was. In an interview with NBA 2K, Jordan explained why he included the dream in his Top-5.
ADVERTISEMENT
Article continues below this ad
"He was in the Top-10 in 5 categories. Steals, rebounds, blocked shots, scoring, and shooting percentage. To have a big guy his size to be in the Top-10 in steals now, you can assume that he would be in blocks which to me shows versatility what type of guy he really was."
Despite playing against each other for about 18 seasons, Jordan and Hakeem did not play against each other in the Playoffs. Who do you think would have won between Olajuwon's Rockets and Jordan's Bulls?