"To Brittney Griner and Her Wife": Award Winning Singer Takes Major Step That Could Help WNBA Star Escape Harsh Conditions
Published 11/27/2022, 10:10 AM EST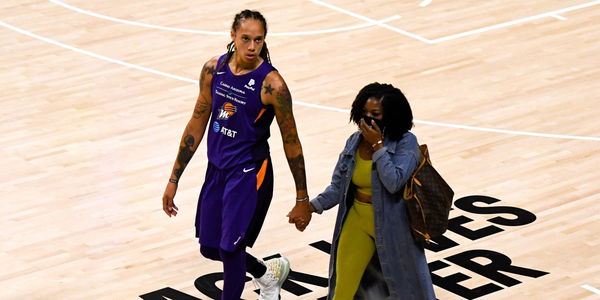 WNBA star Brittney Griner, who has been stuck in Russia for over eight months, needs all the attention she can get to catalyze her fight for freedom. She is currently battling some of the harshest conditions in the IK-2 penal colony (infamous for inhuman treatment and forced labor) in Mordovia, where she is expected to serve a nine-year sentence. Amid the turmoil, award-winning singer Lauren Jauregui has taken a major step that could play an important role in Brittney Griner's escape from Russia.
Jauregui, a renowned singer, and an LGBTQ rights activist, was a part of one of the prominent girl groups called Fifth Harmony. The 26-year-old made a grand gesture to show her support to Brittney Griner and her wife Cherelle, who had been fighting for the WNBA star's freedom. 
ADVERTISEMENT
Article continues below this ad
Lauren Jauregui supports Brittney Griner publically
Lauren Jauregui used her Twitter platform with 4.3 million followers to bring attention to Brittney Griner's detention in Russia.
The popular singer offered her prayers for Griner and her wife's protection and wrote, "Sending a prayer of protection & strength to Brittney Griner and her wife."
Sending a prayer of protection & stength to Brittney Griner and her wife💔🕯

— Lauren Jauregui (@LaurenJauregui) November 26, 2022
The heartfelt tweet from Jauregui would be welcomed by BG's supporters. While many celebrities have brought attention to Brittney Griner's situation, the popular musician's efforts could be extremely helpful for the Phoenix Mercury star. 
Many experts have urged the country to keep speaking about Brittney Griner's detention in an effort to facilitate her release. POTUS Joe Biden and his administration are working tirelessly to rescue Griner. The State Department also offered a prisoner swap deal, which is currently being negotiated between the two countries. 
Harsh conditions Griner might be facing in prison
ADVERTISEMENT
Article continues below this ad
Pussy Riot founding member, Nadya Tolokonnikova, revealed the details of the horrors Griner might face inside the prison. The Russian musician and activist spent nearly two years in the IK-14 penal colony in Mordovia.
Tolokonnikova shared that Brittney Griner might be subjected to 'slave-like conditions' in prison camps. She further revealed that the medical facilities were extremely poor and torture was not uncommon in the IK-2. In addition, Tolokonnikova reckoned that Griner was being held in one of the 'harshest colonies' in the Russian prison system.
ADVERTISEMENT
Article continues below this ad
WATCH THIS STORY: Did WNBA star Brittney Griner date 7-ft Lakers center, Anthony Davis?
Unfortunately, BG might be dealing with some extremely tough situations inside the IK-2. Hence, Jauregui's prayers and support could be crucial for Brittney Griner.
Edited By: Jayant Chhabra