"Told me to get my a** in shape": Losing 50 Pounds After Good Friend Shaquille O'Neal, Charles Barkley Puts Struggles of Obesity in Words
Published 02/03/2023, 10:50 AM EST

Follow Us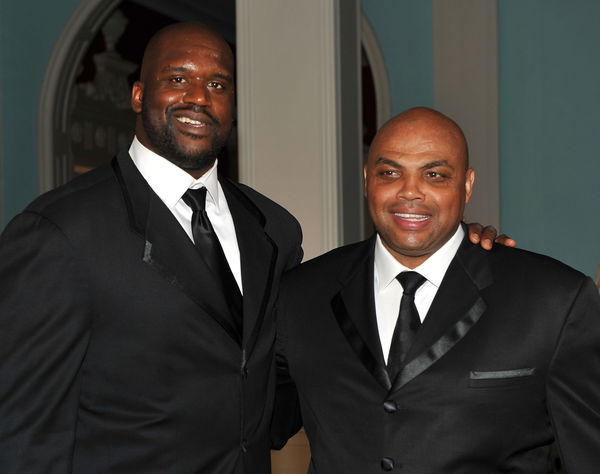 Like many former professional athletes, NBA legend Charles Barkley struggled with weight gain after retirement. Barkley was someone who received some flack for weight gain and diet even during his NBA career. However, when you are training three times a day, you could get away with eating whatever you want to now and then. But that will not be the case if you are relatively sedentary. As Barkley retired, he gradually lost the motivation to work out and his diet did not help.
Also, some of his injuries during his playing career also caused some trouble. This resulted in the Philadelphia 76ers legend gaining a lot of weight. He then had to make an effort to be a healthy individual.
Charles Barkley on his weight loss journey
ADVERTISEMENT
Article continues below this ad
Charles Barkley recently joined NBA veterans Matt Barnes and Stephen Jackson in the latest episode of All The Smoke podcast by SHOWTIME Basketball. During the show, Barkley opened up about a lot of interesting stuff, In one instance, Barnes stated Barkley looks good and asked him about losing weight and his hip replacement. While talking about his weight loss journey, Barkley recounted how he used to eat whatever he desires during his playing career and how it is unforgiving once he retired. He then stated he was asked to lose weight by a doctor because of the health issues associated with massive weight gain.
Barkley said, "I just gotten out of shape just being lazy first and foremost because I was in pain all the time. I'm like, 'I'm tired of working out. Sh*t I worked out my whole life.' And I just got tired. Then my hips got bad and my doctor, he said, 'Imma get you new hips. But you gotta lose weight man.' He said, 'I see a lot of fat young people I don't see no fat old people.' He told me to get my a** in shape."
ADVERTISEMENT
Article continues below this ad
The 1993 NBA MVP noted that he took his doctor's advice and lost around 50 pounds. Barkley's colleague and fellow NBA legend Shaquille O'Neal also lost over 40 pounds recently after his doctor's warning.
A reality check from Moses Malone
During his initial years in the NBA, Charles Barkley was called "fat" by NBA legend Moses Malone because of his weight. Coming from his role model, it hurt him a bit. However, it motivated him to lose weight and became one of the best players ever.
ADVERTISEMENT
Article continues below this ad
WATCH THIS STORY – 5 times Charles Barkley and Shaquille O'Neal had heated fights on Inside The NBA
While talking about his issues with weight, Barkley said he could not believe that he is going to be 60 years old in just a month. He recounted when he first came into the league he and his teammates used to call players who were 35 "gramps".
Edited By: Jayant Chhabra