Tom Cruise and Hit Film "Top Gun" Have a Secret Success Relation With Jayson Tatum's Boston Celtics That Will Shock NBA Fans
Published 06/03/2022, 10:30 PM EDT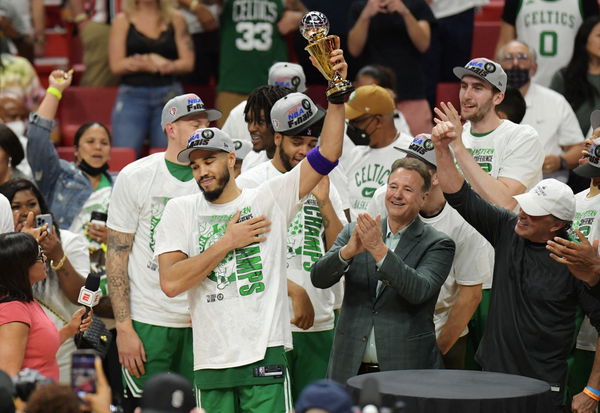 Lucky charms don't usually work on the highest level of sports but this lucky charm will certainly excite the Celtics fans. While Jayson Tatum and the rest of their team look forward to the 2021-22 NBA title, Tom Cruise has decided to release his highly anticipated film, 'Top Gun: Maverick.'
In case you are lost, the first part of the Top Gun franchise was released in 1986. And guess what? The Celtics won the NBA title that year led by Larry Bird.
ADVERTISEMENT
Article continues below this ad
Top Gun was released in 1986. The year the Celtics won banner 16..

Top Gun: Maverick released in 2022… the Celtics…?

— Nader (@nadersoufan7) May 26, 2022
Although there is no reason to believe that the release of the film is going to affect the NBA results, this coincidence can certainly go a long way in case the Celtics pull off the victory.
Jayson Tatum and the Celtics shock the Warriors
The NBA finals between the Golden State Warriors and the Boston Celtics are well underway. The Celtics currently have a 1-0 lead over Stephen Curry and the Warriors in the 7-match series.
Although the Warriors led the match for a majority of the time period, Al Horford led a spirited Celtics to a brilliant 120-108 win.
The Warriors entered the match having lost none of their playoff games in the Chase Center. Although the Dubs kept control of the match for the first three quarters, Boston took over in the fourth quarter.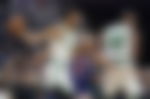 The Celtics entered the fourth quarter being down 12 points and they finished the quarter 40-16 over the Warriors. Interestingly enough, their fourth-quarter masterclass included a 17-0 run during the same.
Jayson Tatum played a crucial role in the team's fantastic comeback. He either scored or assisted 20 of the first 23 during the final quarter!
ADVERTISEMENT
Article continues below this ad
Moreover, he received help from Jaylen Brown and Al Horford. Horford previously held the record for playing 141 playoff games without reaching the finals. In his NBA finals debut, he decided to put on a show.
Horford scored 26 points, 6 rebounds, and 3 assists that included 6 threes! On the other hand, Stephen Curry of the Golden State Warriors scored a game-high 34 points in a night which ended in vain for his team.
WATCH THIS STORY: The second Richest NBA Player After Michael Jordan is not LeBron James or Kobe Bryant
ADVERTISEMENT
Article continues below this ad
Do you think the Boston Celtics can win the NBA title this year? Let us know in the comments down below.