'Top Echelon': American Broadcaster Reveals Her Top Takeaway from Kevin Durant Interview
Published 04/11/2021, 10:12 PM EDT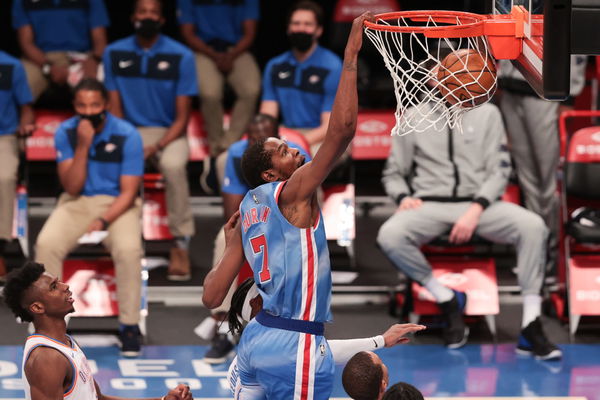 ---
---
Kevin Durant is undoubtedly one of the greatest NBA players when it's about driving a superior comeback. The way he bounced after 550 days of court inactivity was already astounding. But a hamstring injury soon followed, and he again had to rest before making a spotless return against the Pelicans.
ADVERTISEMENT
Article continues below this ad
The Nets might've lost their recent fixture against the arch WC rivals Lakers, but they know KD is yet to unleash himself. He has played just 21 of the 53 games the Nets have played and hence deserves some more time to go full throttle.
What is Kevin Durant aiming to achieve?
ADVERTISEMENT
Article continues below this ad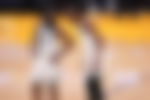 Recently, ESPN's Rachel Nichols got a chance to interview the 32-YO Brooklyn Nets star. The two discussed a variety of interesting topics that mattered to KD and his fans. They talked about James Harden's MVP contention, the Big Three's chemistry, the idolizing of players, and KD's Oscar nomination. 
In reaction to that conversation, the 47-YO Sportscaster spoke about KD's mindset and where he wants to reach. She expressed, "There was a point when Kevin Durant kept getting reminded, you haven't won anything, it was part of the reason he left Oklahoma City. He thought that he had a better chance winning at Golden State, and certainly he did. He won two rings there, two final MVPs."
Notably, when KD left the Warriors, he simply stated that he wanted to play for a new team and that he had put old achievements on a shelf. So what is it that the Sniper is now targeting?
Brooklyn Nets leader and his wise ambitions
In the same interview with Rachel, Kevin Durant explained how winning rings do not motivate him as much as developing as a player does. He specifically mentioned how some players earn a ring, contributing nothing towards the betterment of a roster. 
ADVERTISEMENT
Article continues below this ad
As Rachel Nichols further described, "I remember sitting down with him after he won… he said, 'I thought this was going to make me happy, it's not the answer to everything.' He's really gone over a bit of an emotional journey over the past few years, learning and knowing about what's really important to him. He said, 'don't get me wrong, I wanna win, but it's more about developing as a basketball player, how good can I really be. And look, we're already talking about the possibility of him being a Top 10 all-time player. His goal is to go even higher in that top echelon and he thinks maybe he can."
The rather contradictory part here, however, becomes the fact that KD has fabricated another super team around him to win a ring. So yes, he can still strive to become the best in the league, but hunger for winning championships is still visible. Having said that, we find nothing wrong with those ambitions because the competitiveness will only benefit the league.
ADVERTISEMENT
Article continues below this ad
Read also – 'Check Your Ego': Kevin Durant Gives the Secret Mantra Him, James Harden and Kyrie Irving Follow